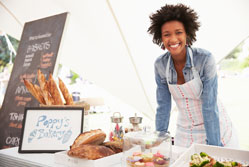 If you're marketing to a local audience, there are more tools available than ever to help you. Naomi Marks finds out how you can use online services as well as traditional marketing techniques to attract local customers
Appealing to local customers is easier than ever. And it's not just about flyers and local ads; technology can also be used to market at town or even postcode level.
"It's just easier to market within a defined geography," says Sarah Orchard, founder of Orchard Marketing Associates. "For example, in theory I can consult across the whole of Europe, but in practice I keep to my home town and neighbouring counties.
"I can network locally, I can use local marketing techniques, and there are enough customers in the catchment area to keep me busy," she explains. "It's about fishing where the fish are."
Get listed in local directories
The internet is an increasingly powerful local marketing tool. As a first step, you can get listed with Google My Business so customers searching Google and Google Maps find your contact details.
Free Index is another free online directory. "With FreeIndex, your local customers can add reviews. The more positive reviews you get, the higher up the index you go," explains Orchard. "Basic listings on sites such as Thomsonlocal.com and Yell.com are also free."
Location-based social networking
Another easy step to ensure local customers find you online is to optimise your website for local searches. At its most basic, this means including your operating area in the keywords of all pages and page title fields, and adding as many relevant backlinks (links from other local websites) as possible.
Increasingly, social media is also lending itself to local marketing. Restaurants, bars and shops, for example, might consider listing on Foursquare, a free location-based mobile app that uses global positioning data to allow people to share information about places to eat, drink, shop or visit. Users can pick up automatic suggestions on where to go from within their vicinity.
Traditional marketing for local businesses
Face-to-face networking can be an extremely effective way of building local custom, particularly for business-to-business customers. "If someone has met you, they are much more likely to want to use your firm or refer you," points out Orchard.
Networking can also help you develop marketing partnerships with local, complementary businesses. For example, a high-street wedding dress designer and florist may find it valuable to promote each other in their marketing.
Other traditional marketing techniques you could use to attract local custom include targeted leaflet drops, press releases to local media and local sponsorship.
Evaluating response to your local marketing
To ensure you're spending your time wisely, measure the effectiveness of your marketing strategy. "Put in tracking mechanisms so you can measure how successful each technique is," advises Orchard.
"Evaluating web-based marketing can be easy using Google Analytics, which is free," she adds. "But if you do only one thing, ask all new customers how they heard of your firm."