Ask people to pay too much for your product or service and they will stop buying. Ask too little and your profit margin slides or customers assume your product is poor quality. An 'optimum price' factors in all your costs and maximises your margins while remaining attractive to customers. Here's how to set your prices
Know the market. You need to find out how much customers will pay, as well as how much competitors charge. You can then decide whether to match or beat them. Simply matching a price is dangerous, though - you need to be sure all your costs - both direct and indirect - are covered.
Choose the best pricing technique. Cost-plus pricing involves adding a mark-up percentage to costs; this will vary between products, businesses and sectors. Value-based pricing is determined by how much value your customers attach to your product. Decide what your pricing strategy is before making a calculation.
Work out your costs. Include all direct costs, including money spent developing a product or service. Then calculate your variable costs (for materials, packaging and so on) - the more you make or sell, the higher these will be. Work out what percentage of your fixed costs (overheads such as rent, rates and wages) the product needs to cover. Add all of these costs together and divide by volume to produce a unit break-even figure.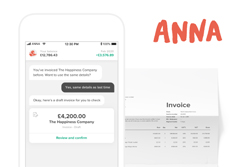 Take back control with the free invoicing app from ANNA. Get instant, professional invoicing with automatic due date reminders, chasing and direct payment with smart links.