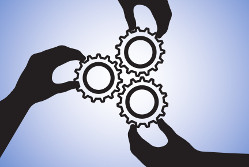 Forming strategic marketing collaborations with other businesses is one of the most cost-effective ways to reach new audiences. Christina Richardson, business marketing specialist and founder of The Nurture Network, runs through the five steps to make your marketing collaborations work
The biggest challenge for most new brands is lack of awareness - which is why more than 80% of businesses recognise "finding new customers" as one of their biggest challenges to growth. This need, combined with limited budgets, is what drives a number of savvy brands to explore marketing collaborations to fuel their business.
But collaboration remains one of the best-kept secrets of the entrepreneurial world. More than 60% of start-ups and small businesses are working together to find new customers because it can be one of the most effective and cost-efficient ways to grow a business.
At one end of the scale, businesses are co-creating completely new products, or running whole marketing campaigns or on-pack promotions together. At the other end of the scale, savvy start-ups get together with other brands to promote each other's brands and share each other's products to expand their own reach.
Here's how to set up a successful marketing collaboration and get results on a budget.
1. Be strategic
All effective marketing starts with a clear idea of what you want to achieve, and developing collaborative marketing activities is no different. Firstly, identify what you want to achieve. Identify whether you want to reach more people; whether you want to reach a very specific or niche group of people; perhaps you want to improve your brand reputation; or even reward your current loyal customers in some way.
Knowing your objectives will enable you to be clear about what activities you would like to do with another brand.
2. Think like your customer
Having your customer at the heart of all your marketing decisions is vital to effective marketing. When it comes to choosing a brand to collaborate with, your customer is the best place to start. What brands does your customer base buy and interact with? What brands do they aspire to? Which ones complement your brand?
Identify all the brands that your consumer interacts with, and you will have a long list of brands that you can collaborate with to meet more customers like the ones you already have.
3. Be true to your brand
The final filter for selecting the best brands to collaborate with is brand-fit. The most effective marketing collaborations are when the very essence of the brands involved genuinely work well together: Whether it is having a common cause, matched brand values, or a similar tone of voice - something must be complementary to make a successful relationship, rather than a superficial one.
When McDonalds was announced as a brand partner of London 2012 they came under some pretty heavy scrutiny, because the perceived brand values jar with each other. By contrast, Nike and Apple working together to create fitness accessories that talk to each other makes perfect sense and gives added value to the consumer. Similarly, when Innocent Drinks wanted to teach kids about healthy food and drink, we teamed them up with veg-garden-in-a-box company Rocket Gardens, and created an on-pack campaign.
4. Cash is not king
There will always be a role for paid-for sponsorship deals, but it's best to build relationships based on mutual benefit rather than cash exchanges. Once you know who you want to reach and what you want to achieve, the trick is to identify what you have of value that you can offer potential brand partners.
You could give away products in return for free advertising; offer up competition prizes for editorial coverage; feature other peoples' competitions in your marketing in return for featuring in theirs - the opportunities are endless.
Don't get caught up thinking you have nothing to offer because you're small or don't do much marketing. If you have just one shop, there will be non-retail brands itching to access the people that walk through your doors every day. If you have a great social media following, or an e-newsletter that is well received by a specific group of consumers, then these are your assets.
5. Focus on the relationship to make it happen
In return for reaching new customers and promoting your business for little or no cost, be prepared to invest time in creating a strong relationship with your brand partner.
Be open and honest about what you both want to achieve, and agree your joint objectives up front. If you get the right balance you will both want to repeat the activities again and again, which really pays back on the time spent finding, meeting and working together.
Be flexible and creative early in the planning stage. Once you have a central idea for working together, look at all parts of your respective businesses and see how and where you can spread your idea across multiple marketing channels. By amplifying the activity across email, print, adverts or social media you will get better return on investment for the time you are putting in.
Plan ahead and agree clearly who does what by when. The best ideas can fall down at the execution stage - so make time to go through the detail and agree responsibilities up front. If there is any copy, creative or artwork required for your activity, set up a process so that both parties can sign it off by the deadlines. And identify some key measures that you both feel are good ways to track success by.
Get involved
The only limiting factor for collaboration is finding brands to do it with. The majority of brands we work with find this the biggest limiting factor as often it takes meeting someone whilst networking to get the ball rolling. Now, with collaboration sites like Brand Gathering, businesses can find other brands to collaborate with.
Written by Christina Richardson of The Nurture Network.