The culture of sharing is already well-established among consumers. But now businesses are discovering that by collaborating they can reach valuable new audiences and grow their businesses - at little or no cost. Christina Richardson, business marketing specialist and founder of The Nurture Network, introduces some collaborative pioneers
Sharing is a trend that has embedded itself into our lives in many ways. Today you can share cars and films - even designer dresses. But have you thought about sharing your marketing?
The appetite for sharing is in stark contrast to the hyper-consumption of the boom years. It is no doubt fuelled by both austerity and the opportunities opened up by online platforms. As a result, ventures like Zipcar have taken off quickly.
These mainstream examples have spawned a host of other consumer sharing ventures. You can share your flat via Airbnb or borrow couture dresses via Rent the Runway. They are all driving down the cost of ownership through sharing.
Business collaboration
Now the appetite for collaboration means that the "sharing economy" is impacting on business marketing. It has emerged most strongly in the growing start-up culture, where everything from space, tasks and money can be shared or exchanged.
In the world of crowd-funding, you can fund a creative venture via Kickstarter, invest in a business through Crowdcube, and get business loans through sites like Funding Circle. Similarly we see hubs of start-ups developing in one location to share resources, knowledge and space to fuel their growth more efficiently.
Brands are beginning to think more creatively when it comes to finding new customers. There are brands out there that already have a huge number of the people you may want to reach - not competing brands of course, but ones that you can collaborate with. The likelihood is if you want to talk to their customers, they'll probably want to speak to yours too. Marketing collaboration helps you reach new customers - whether you have a marketing budget or not.
This is already happening. There are lots of savvy young brands working together to promote each other, helping each other to grow and creating mutually valuable exchanges, without a sponsorship fee or advertising payment in sight. They feature each other in their e-newsletters, use each others' products in event goody bags, and even do co-branded events.
Case study: making friends with other brands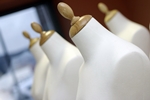 Growth business A Suit That Fits has been using marketing collaboration since it launched six years ago - both to build loyalty with existing customers and to reach new ones. Take their "12 days of Christmas" mailer. It invited customers to enter competitions to win great prizes leading up to Christmas. All these prizes were donated by other brand "friends" for free, but in return they got exposure to the 40,000 people on the A Suit That Fits mailing list. No cash was exchanged but all parties benefited.
In short, businesses of all sizes are now collaborating with other brands because it can be one of the most effective and cost-efficient ways to grow a business.
Like all good marketing ideas, you start with who you want to reach and why, then use this to pinpoint the brands that will help you reach them. Collaboration is about building relationships with like-minded brands that have the customer group you want to reach. Up until recently, brands were largely limited to who they met at networking events or were introduced to. However, now sites like Enterprise Nation are creating online communities where brands can meet to explore collaboration.
Marketing collaboration isn't about expensive agencies, it is about community - brands working together for mutual benefit. And it's the savvy brands that are leading the way, becoming the pioneers of the marketing collaboration revolution. Will you be one of them?