Online tools and mobile apps make it easier than ever to ditch the pen and go digital. Here is our selection of the best free and paid small business apps that can help you to manage all aspects of your small business more efficiently and effectively
Best apps for project management and to-do lists
A simple, visual project management tool that lets you quickly and easily see what everyone in your team is working on. It can be used to manage to-do lists, tasks and projects across your organisation.
Get things done with Google's plain but popular system for managing, capturing and editing your tasks. It integrates with Gmail and can be synchronised across all your devices, with free Apple and Android apps.
Never lose tracks of tasks, organise notes and improve productivity with this reliable cloud-based to-do-list app. Use the Task Manager to share lists with colleagues and colour-coded lists to distribute tasks.
You can prioritise, set reminders, collaborate with others and plan the best way to tackle tasks with this highly popular to-do-list app.
Take notes, grab a screenshot, record audio or copy a link with Evernote. The app captures all this information and then organises it, indexes it and makes it searchable - perfect for small businesses.
Omnifocus records and organises all your to-dos and syncs them so you can get an up-to-date state of play wherever you are. A business planning app powerhouse that's available for iPhone and iPad.
Trello aims to make project management fun and flexible, by organising projects into the boards, lists and cards. It's a simple and intuitive system that offers a great deal of control and visibility for business owners.
Manage remote teams with detailed and accurate time tracking, GPS tracking to assist fleet management, proof of work and timesheet managment. You can also automate payments with payment integrations.
Slack is popular for managing digital teams. It brings everything related to a project or team together in one place and gives you the ability to share files. There's also an app store where you can add a number of additional integrations. Slack also offers a free trial.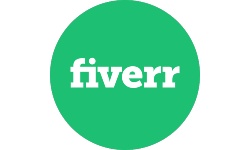 Find a huge variety of design services from brand identity to marketing and advertising design. Whatever your branding and design wishes Fiverr has the talent to bring it to life!
Top business finance apps
If you already subscribe to Quickbooks, you can download the free app to track income, expenses and tax payments on the go from your Android mobile, iPad or iPhone.
A record-keeping app to help small businesses, start-ups and the self-employed track business income and expenses. Subscriptions start at £19 a month for sole traders with a month-long free trial available.
Pleo makes keeping track of business spending simple. The company card solution allows you to monitor and manage expenditure, and integrates with all popular bookkeeping software packages.
Sage Business Cloud is aimed at freelances, self-employed people and SMEs. As well as all the accounting elements you could need, you can track payments, payroll and your people - just pick the functions you require. Enjoy a 30-day free trial of Sage Business Cloud Accounting Start, or get 50% off for three months.
Take photos of your receipts and manage business expenses on the go with this popular mobile app.
Manage your business on your iPhone, iPad or Android smartphone, including sending invoices, adding receipts and monitoring expenses.
As well as managing your accounts, Zoho Books allows you to create automated rules like sending out recurring invoices or chasing late payments. It's an app that can make managing money a little easier. 
Business password apps
LastPass remembers your passwords and other information and stores it securely in a 'vault', which syncs with any device automatically, giving you access to your business passwords wherever you are.
NordPass remembers your passwords, notes and credit card details. It also auto-fills online forms and allows you access or generate secure.
Simple, easy to use and won't break the bank, this is a solid choice for the small business. Create and manage groups to give different permissions for different users. 
Download this free, open-source password manager or install browser extensions for Chrome, Firefox, Safari and a whole host of others to stay safe as you surf. Works on desktop, tablet and mobile. 
This app lets you automatically generate and save new passwords, and you can store IDs, credit cards, and other business information for auto-filling on any website.
Best apps for business files
Dropbox allows you to sync business files online and across your computers and connected devices. Access your data from wherever you are and share your files and photos with others using the free Dropbox app.
Automatically syncs files and folders across multiple computers, allowing you to access business documents, photos and music wherever you are. SugarSync also offers automatic, continuous backup for all your files. Free 30-day trial.
A subscription-based online storage solution from Microsoft that securely stores all Microsoft 365 file formats. This intelligent files app works across desktop, tablet and mobile. 
Google Drive allows you to view, share and edit Google business documents, including spreadsheets and PDFs from other computers or from your mobile phone. 
Top parcel-tracking apps
This free global parcel-tracking app lets you follow the progress of packages from a whole host of global carriers, including USPS, Canada Post, Royal Mail, China Post and hundreds of others. 
Follow the progress of your parcel from over 500 couriers across the world. Simply paste the tracking code into the app, and you'll see details of its whereabouts in seconds.
The FedEx app, available for iPhone, iPad and Android devices, allows you to track business packages while they are in transit, as well as locating your nearest FedEx office.
Deliveries enables you to track packages from UPS, FedEx, USPS, DHL, TNT, and more. You can also track business orders from Amazon and Apple, even before they even ship. See your package's location in Google Maps. Available for iPhone and iPad.
Business apps for organising your thoughts
A simple way to create sophisticated diagrams, flow charts and process maps. Share with colleagues and collaborate online. 
Mind-mapping software that can help improve the way you brainstorm, capture and organise ideas and plan projects.
Organise your mind with this intuitive mind-mapping tool. Capture ideas and store them in the cloud, or forward to friends and colleagues when inspiration hits.