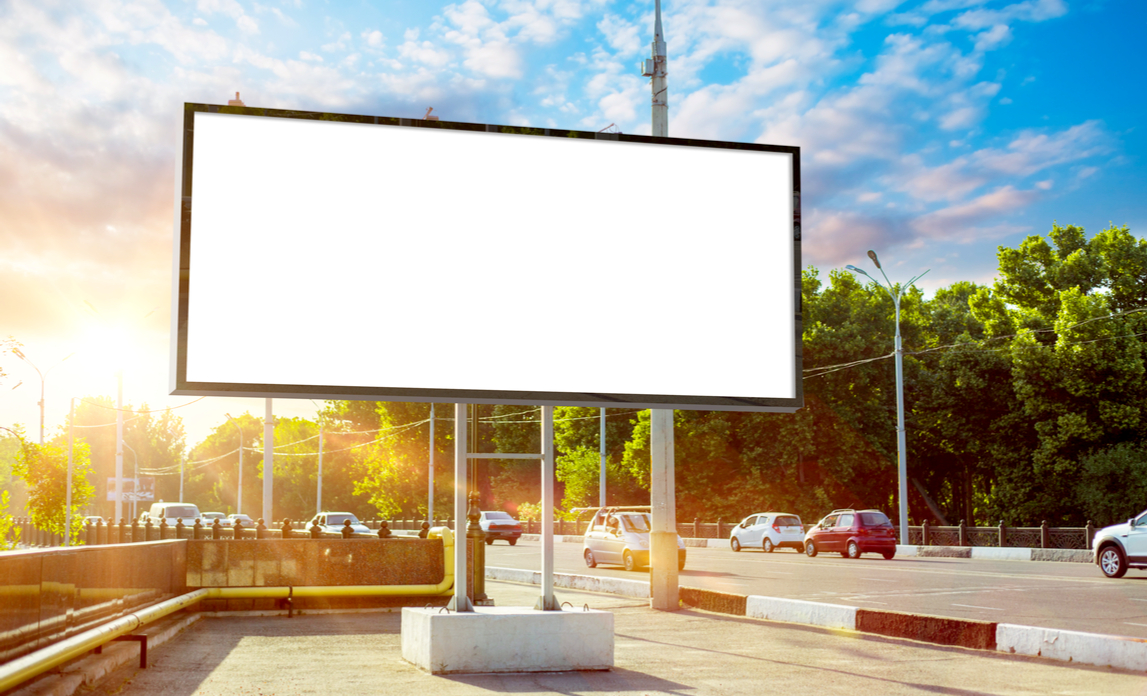 Word on the street recently has suggested that traditional billboards are about to enter a period of permanent decline. People often cite the growth of digital billboards to support this idea, with the market share of global out-of-home (OOH) ad spend having peaked at 37.3% in 2018.
While larger businesses may have shifted their attentions to digital OOH (DOOH) advertising in recent times, this is part of a growing preoccupation with all things digital. Increasingly, firms are beginning to realise that digital billboards fail to offer the reach and exposure of traditional alternatives, despite the incredible level of hype that surrounds them.
Below, I'll reveal why classic billboards are here to stay, while considering the core advantages that they offer in comparison with digital ads.
The truth about the OOH market and traditional billboards
The demand for traditional billboards has increased markedly during the last few years. At Airoutdoor, we've continued to grow rather than decline during this period, largely thanks to our ability to attract direct interest from local businesses rather than relying solely on agencies to supply clients.
This would mean little without the requisite level of demand, however, and there's no doubt that our recent growth has been fuelled by increased levels of interest in classic OOH advertising on 48 or 96-sheet billboards.
We're also finding that demand is rising amongst both local businesses and agencies, as many begin to realise the deficiencies of DOOH and its failure to deliver the exposure of traditional billboards (more on this later).
This rising trend also offers an insight into the current state of the market, and why so many people have already sounded the death knell for traditional billboards.
As digital has grown to account for a larger share of the global OOH ad spend, for example, so too some companies may have witnessed a slight decline in the demand for classic 48 and 96-sheet billboards. Some commentators have misinterpreted this as being indicative of the entire OOH market, whilst also assuming that this is part of a long-term trend
However, the fact remains that traditional billboards have retained a healthy market share throughout the digital revolution, while experiencing some cyclical declines in demand and interest.
Calling a premature decline in traditional billboards also ignores the value proposition associated with classic OOH advertising, which will always be particularly alluring to small and independent businesses.
This is why so many businesses are now apparently returning to classic billboards, in a bid to minimise their spend, achieve maximum exposure for their brand and generate a superior return on their marketing investment.
SMEs, classic billboards and the benefits of traditional OOH
In simple terms, it's clear that as the lustre of DOOH begins to fade, brands are returning to tried-and-tested classic billboards while appreciating the wide range of benefits that they offer to clients.
In fact, there are numerous advantages to consider here, not least the competitive pricing associated with traditional billboards. In general terms, 48-sheet billboards can be sourced for the reasonable price of £495 over the course of a two-week booking (including rental and production costs), whereas a digital alternative will cost an estimated £2,500 for the same period.
This is why classic billboards are so popular among SMEs, as they make large-scale advertising accessible to smaller businesses while also enabling them to optimise their levels of exposure and brand awareness.
Then we come to the return on your marketing investment, which is obviously impacted by cost and the exposure provided by your advert. Traditional billboards have a competitive advantage in this respect too, primarily because they provide brands with 24-hour visibility and exclusivity within a strategic location.
Conversely, digital billboards often require advertisers to share space with five other advertisers, with each brand's messaging shared for 10 seconds during a single minute slot.
This completely undermines the impact of your message and the level of exposure that it receives, which is particularly damaging for smaller companies that are committed to building brand awareness. The issue can be compounded when you're forced to share space with superior adverts or more coherent messaging, as this may see your own marketing efforts drowned out by the noise.
With these points in mind, it's clear that traditional billboards offer an affordable and effective way for small businesses to target local customers.
When championing DOOH, many people site the ability of digital billboards to craft engaging narratives on social media. This is part of a wider argument, with an estimated 17% of digital billboard viewers thought to visit an advertiser's website within one month of seeing a message.
This is not exclusive to digital billboards, however, with research from Nielsen suggesting OOH adverts in general trigger more activations and interactions online. In fact, the study found that all forms of OOH advertising were among the most successful offline marketing channels, spurring an estimated four out of 10 visits to Facebook.
The same principle applies to social media sites such as Instagram and Twitter. There's no doubt that classic billboards can drive significant levels of social engagement, so long as your advert is compelling and includes the relevant contact details.
There are challenges with classic billboards - but they're being overcome
This is not to say that classic billboards will not face challenges in the near term, of course, while the rise of digital alternatives has already impacted on some service providers in this space.
One issue relates to the natural and evolutionary processes of urban regeneration that have taken place across the length and breadth of the UK, which has changed the national landscape and reduced the amount of land available for traditional billboards.
This process has also coincided with the emergence of digital billboards, with many landlords opting to host bright and LED-lit ad screens. While this has been impactful and led to some traditional billboards being "culled", there remains a large volume of high-traffic sites available across the UK.
This is also leaving quality boards and strategically important locations, which in turn, is making them more desirable and generating significant interest amongst clients. If these trends continue, we will undoubtedly continue to see more brands revert to traditional billboard advertising.
The last word
While DOOH has undoubtedly enjoyed exponential growth during the last five years, there's no doubt that this has been partially driven by hyperbole, half-truths and exaggerated claims.
At the same time, the decline of traditional billboards has been dramatically over-hyped, with some analysts overlooking the level of demand that remains for this type of advertising and the cyclical nature of OOH marketing.
As a result of this, brands are increasingly wary of the pitfalls surrounding OOH and the chasm between perception and reality, while they're also becoming cynical of some agencies that encourage them down the digital billboard route (despite the cost and lack of overall return on investment).
Ultimately, the market always tends to come around, and this would be the case even without the compelling value proposition of classic billboards and the appeal that they hold amongst small businesses.
So while digital may have superficially dominated the OOH space in recent times and emerged as the "sexy" option for business owners, classic billboards are undoubtedly here to stay for the longer term. Some would say that the early digital screens embody this - as while they've become increasingly worn-out, traditional billboards remain as effective today as they were decades ago.
Copyright 2019. Article made possible by Paul Inman of AirOutdoor, an out-of-home (OOH) advertising business