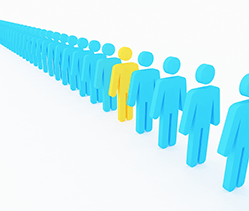 In many ways, it's easier than ever to start up your own business but it's becoming increasingly difficult to stand apart from the crowd. But it's not impossible. Here are four ways to help your business to gain valuable visibility.
1. Stand for something
Businesses that lose themselves within the crowd are often the ones that don't have anything to stand for. I'm not saying you need to be prepared to fight crime Batman-style, but do agree on a clear message that you want to communicate and share this with your audience.
People will remember you for your message - just look at Volvo, with its "safety first" message. This is how we remember Volvo; this is what makes the brand stand apart from its competition. If you want a safe car, you know where to turn.
2. Create a dream team
We can't score the winning goal on our own - we need a team around us to help set it up, block the defence and pass the ball. The same applies to making your business stand out from the crowd; you have to create a trusted dream team - and that includes partners and customers as well as your own staff (if you have them).
Whether you have a marketing team or do that job yourself, you need a fearless brand leader, loyal staff and brand advocates (the customers). These are the people who will set your business apart. This dream team can be difficult to construct but get it right and you will be able to take on the world.
3. Go digital
A lot of businesses make the mistake of thinking what they do or sell won't translate online. They couldn't be more wrong. It's time to make what you do or sell visible online because this is where your audience is.
There are many ways to communicate with your target audience online - Facebook, Twitter, LinkedIn, Google+, Tumblr and YouTube. This is where your message needs to be clear - it's easy to confuse what you're trying to communicate with the audience and your message can get lost in translation. Don't spam your audience, choose the most appropriate media, have a clear message and communicate at the right time.
Going digital is perfect for small businesses as it cuts out the advertising middle man, saves thousands of pounds and provides you with greater control of your marketing message.
4. Look around
If you don't know what the competition is doing, how can you set yourself apart? Take time out to research what those around you are doing; what worked and what didn't.
If your competitors are doing something you like, think about how you can adapt the idea for your own ends and do it better. Or better yet, take on board everything those around you are doing and do something completely different.
Leah Jarratt is writing on behalf of Salt Recruitment.