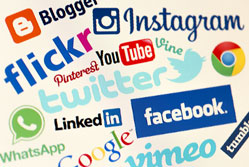 Social media listening is a fundamental tool for any business owner — even if you're not currently active on all social media sites.
The days of suggestion boxes and comment cards are long gone. Social media is now the first place people turn to praise or criticise a brand. For consumers, it has become the quickest and easiest way to directly contact a brand and get a problem sorted. So it is vital that your business is listening to these comments.
Listening on social media is about monitoring posts and conversations that refer to your brand, product, service or even competitor, in order to aggregate the data and find out what people really think about your business.
There are several platforms that can help you monitor social media, such as Meltwater Buzz, but there's nothing to stop you from monitoring social mentions yourself.
Listen before you leap
Social listening must come first in any social media strategy. Once you have gained a sense of your reputation online, you can then engage based upon you customer needs. Knowing what people are saying about your brand allows for more proactive and reactive posting.
If you don't want to invest in social media listening tools, setting up social media profiles and lurking online is just as effective. Using Twitter to search for your brand name will bring up all the tweets that mention your business and will allow you to gain a sense of how you're faring online. It also allows you to check up on your competitors and see how their brand mentions compare.
Nine reasons to start listening on social media
Gather market research: People post honestly on social media, so if someone doesn't like your brand they'll tell you. Social media allows you to gain insights, opinions and experiences from real customers in real time.
Identify your weaknesses: If customers are having negative experiences with your brand or product then you can quickly identify the problems using social media. You don't need to second-guess your customers anymore, they are telling you what's wrong. Keep an eye out for negative posts, use the social media site to communicate how you are rectifying the situation (so others can see) and turn those weaknesses into strengths.
Identify your strengths: Are you unsure if a new product or service is popular or if your latest marketing campaign is working? Monitoring responses online during a product launch or throughout a campaign will enable you to gauge reaction.
Bring cost efficiencies: Social media feedback allows you to focus your marketing spend where it's most effective. It can stop you wasting money and also identify where social might be a more cost-effective channel.
Fish in the right pond: Social media listening allows you to establish where your target market is spending time online. There are a vast number of social networking sites and focusing on all of them is a huge investment of time. Identifying if your customers are tweeting, pinning or posting on Facebook, for instance, will allow you to focus your efforts.
Understand customer needs: Social media allows you to listen to your customers and gain ideas for future developments that you may not have even thought of.
Protect your brand: Are there people sharing misinformation about you online or misrepresenting your brand? Monitoring your brand mentions will allow you to identify fake accounts or incorrect information and then take action.
Find out what content engages your audience: There are countless ways to engage with your audience on social media, such as images, competitions and case studies but which of these are the most effective? Instead of spending money on ad-hock advertising and content pushing, find out which of these gets the most engagement from your customers and focus your efforts here.
Reach potential customers: Every social media user could be a potential customer. Search for keywords and hashtags to find people that are talking about subjects that are relevant to your brand and then reach out to them.
Copyright © 2015 Emma Pauw, social media writer at We Talk Social.