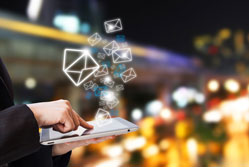 There are many reasons that businesses make the jump to a new email service provider; a growing contact list, a new budget or the need for new features. But whatever the reason, a switch can also be an excellent opportunity to re-evaluate your current sending processes and improve your deliverability.
If you're thinking about switching email service providers, here is a useful checklist to make the transition as smooth as possible so you can spend less time stressing about the migration and more time on email marketing.
When you create an account with a new email service provider, make sure you continue to use the same sender name and address so your existing customers can recognise you.
On the new platform, ensure that Authentication Keys (DKIM SPF) are set up with your new email IP address so that recipients know that emails are from you and are not spam. This will ensure high deliverability, especially if you're looking to send emails through SMTP. SMTP stands for Simple Mail Transfer Protocol and in this context means sending emails through an email service provider using a platform such as Outlook or WordPress.
Migrate your contacts. You can do this manually by downloading them as a CSV file or if your email provider is supported, you can automate this process by using an integration service such as elastic.io. One important thing to remember here is to make sure you also migrate your bounced and unsubscribe contacts – this ensures you don't spam anyone by accident and risk having your new account blocked.
You'll need to protect your reputation if you're moving IP address and domain, especially if you send high volumes of emails. This means, as a rule of thumb, that for the first couple of weeks after migrating to your new provider, you should segment your contact list and email smaller batches of recipients over the first few weeks. This way, you should avoid triggering spam alerts.
Also, remember to migrate the HTML email templates that you worked so hard to create. Your customers are used to receiving a certain look and feel from your emails; it's important to maintain that identity. Again this can be an easy process as you will be able to copy and paste the HTML codes from your previous dashboard on to your new email provider.
With the new email templates migrated, make sure you check that all your links still work and amend those that don't. Don't forget to check the unsubscribe button.
Finally give your customers a heads up about the changes – ask them to add your email address to their address book to help deliverability and ensure they continue to receive your messages. In case you haven't contacted your customers for a while, you may want to consider opting them in once more to make sure they still want to receive your emails.
Copyright © 2015 Amir Jirbandey, marketing lead UK at Mailjet.