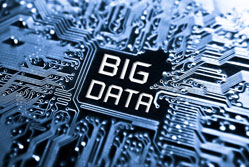 Never before have we had so much data at our disposal. It's being generated at a staggering rate and it's coming from all directions.
While impossible to measure with complete accuracy, computing giant IBM predicts that, by 2020, the global population will generate 35 billion terabytes of data every year – and that figure is only likely to go up.
It's this data that can tell us what the weather will be like tomorrow, which route to take to work in the morning and even when to start preparing for natural disasters. For marketers, though, it's the key to achieving the best possible results for clients.
Why now?
Society's growing reliance on technology is the most obvious reason for this deluge; we live in a world of constantly connected consumers who spend their days working and playing across sizeable collections of devices. They interact with businesses through various channels; with every single interaction generating some kind of data.
The potential power of this information – and the competitive advantage it offers – is too great to ignore. Skills and confidence are as important as they've always been to business success, but they must be complemented by intelligence.
For every new opportunity, however, there exists a new obstacle. Harvesting data is a big enough task in itself – you then have to manage it effectively and turn it into insight.
Technology as a solution
Everyone from small business owners to digital specialists have countless tools to help them collect and generate the information they need to make better decisions.
But while each tool satisfies a specific need, it only provides one piece of a much larger intelligence puzzle. In order to truly understand how a website or campaign is performing, you have to collect all the pieces.
A flawed approach
Recent research suggests that digital agencies rely on some 17 different marketing technologies. But it takes time to aggregate all this data. And these tools are being used by competitors too, so any insights won't necessarily be unique. You have to dig deeper if you're to get ahead.
You can't just use data for data's sake. The focus should be on collecting and using information that is relevant to your business and your website – information that can be turned into actionable intelligence.
With this in mind, a shift in the industry is inevitable.
A time for change
At present, the industry exists in two clear but very different places. At one end of the spectrum, you have the types of agencies most people will be familiar with: teams of specialists offering traditional digital marketing services like SEO, web design, content and PPC.
Then there are the software companies, providing technology designed to complete specific parts of the puzzle. It tends to be assumed, therefore, that customers will have the knowledge and expertise to use the data they harvest effectively.
In the near future, this gap won't exist. It will be filled by forward-thinking agencies looking to combine their two most valuable resources – specialist expertise and technology – to generate better results for their clients.
A new age of in-house technology
The key to success lies in the development and use of proprietary data platforms that bring every bit of useful information together in one place, and make it easy to digest and act on.
Instead of spending their time going through the same chain of data sources every time they need to accurately measure the performance of a website, specialists will have all of the relevant data ready and waiting for them. They can then focus their efforts on making decisions that directly impact their clients' campaigns.
This shift is about more than just saving time – it's about creating better intelligence. The countless individual pieces of information already out there may hold value in isolation, but their true potential will only be realised once they can be analysed side-by-side and put into context. Bring these pieces of data together and they become a whole lot more powerful, highlighting opportunities that may not have been noticed before.
Turning big data into big insight
It's clear that the marketing industry is moving in this direction, and in five years' time, the average agency will look very different to its present day equivalent. Amid all this talk of technology, though, it's important not to forget the value of knowledge and understanding. Automation is a key part of this transition, but the human element is still as crucial as ever.
Data is only powerful when it's partnered with knowledge and understanding. The goal is obviously to turn big data into big insight, but unless it's then used to influence decisions, it's going to waste. In essence, data is useless without the right specialists to interpret and act on it.
There's now so much information to manage, but only a limited number of specialists who know how to use it properly. With all of the integration and aggregation work taken out of the equation by innovative new data tools, though, these experts can focus on what they do best: getting results for their clients.
At present, this innovative model has been adopted only by those at the forefront of the industry – but it's safe to say the rest will follow before long.
Copyright © 2015 Tom Chapman at Vertical Leap.
More on this topic: