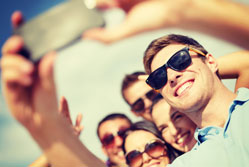 The world seems to be obsessed with selfies. But is your brand maximising the benefits of this trend?
Many marketers look down on the selfie, seeing it as a teen trend, one that promotes narcissism and shameless self-promotion.
But on Instagram there are over 53 million photos tagged simply with the hashtag #selfie. Selfies are also trending on Twitter and Facebook.
To stay current in this fast-moving, saturated marketplace, brands need to take notice of trends. So why are so many brands are still ignoring the selfie? It may be vain but selfies can be used by brands as a marketing tool.
The power of selfies
The selfie has been used to raise awareness for social good. The #nomakeupselfie campaign that took social media by storm last year is a good example. This campaign encouraged girls to take make-up free photos, post them online and then donate money to charity. It raised over £8 million for Cancer Research UK. The fact that Cancer Research did not come up with the campaign shows just how powerful the seflie is for engaging with an online audience.
For business of all kinds, the selfie is a fantastic way for brands to show a human side. Encouraging customers to post selfies with a brand-related hashtag also gives your business free marketing. What could be more powerful than hundreds of social media users posting images with your product or making use of your #brand?
Still not convinced?
Brands have reported huge benefits from including the selfie in their marketing strategy. Axe Deodorant, for example, ran a selfie campaign to coincide with Valentine's Day, asking users to post images of themselves alongside the hashtag #kissforpeace. This generated more than 10,000 tweets with similar results on Instagram.
And who can forget Ellen DeGeneres famous celebrity-packed Oscar selfie? It became the most tweeted picture of all time, with over 33 million retweets. Some say the fact that this was taken on a Samsung mobile was a brilliant marketing idea from the company, although Samsung claims it was unplanned.
Building brand warmth online
It's clear that selfies can generate a huge amount of brand warmth. Asking customers to endorse your products and services through a selfie is much more credible than simply blowing your own trumpet online.
Businesses are actively trying to get user-generated recommendations and build social proof; the selfie could be a critical part of this.
Copyright © 2015 Emma Pauw, social media writer at We Talk Social.