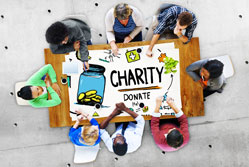 In a world where we are becoming increasingly isolated and where chats on social media are taking the place of face-to-face conversations, the search for a human connection is increasingly important.
It's that feeling of being connected to someone or something that makes things matter and gives us a sense of belonging. So, when a business - big or small - chooses to work with a charity (or a number of charities), it is taking a positive step in building that "connectedness".
People are much more likely to feel a connection to a specific cause than they are to a commercial enterprise. So, when a business starts working alongside a charity, it is portraying itself in a much more human and personable manner, which can only be a great thing - and there are various reasons why:
1. Two heads are better than one
If a business is looking to grow (and what business isn't?), bringing onboard a charity can be a great move. As soon as that business links up with a specific charity, it will be adding to its audience of potential customers or clients. Of course, it works both ways and the charity will benefit from an increased target audience too.
Furthermore, when a business chooses to team up with a number of different charities, as is the case with Instantprint and its Christmas card campaign, even more potential audience avenues are opened up.
2. Benefits on the inside
When a business links up with a charity, the benefits of such a partnership aren't just felt on the outside. Yes, it's going to be beneficial for the business to be seen as a supporter of charitable causes, but it can make a real difference to the inner workings of the company too.
For instance, getting employees involved in fundraising for your chosen charity won't only raise vital funds, it will also help to build relationship between individuals within the company. Teams can bond, members of staff can get to know each other better and the sense of "doing something good" can only help to boost staff morale.
3. Money talks
The number of businesses and charities taking the decision to partner up is certainly on the rise, and perhaps a cynic's view of this could be down to the fact that when a business gives to charity it is entitled to certain tax relief from the UK Government. However, while this can certainly help to lower the amount of tax paid, it can hardly be looked upon as an easy way to cut the tax bill, and certainly won't be saving bucket loads of cash as the money you may have given to the tax man will have instead gone to charity.
Despite all of the different benefits a business can enjoy when it teams up with a charity, the main one has to be that feeling of "doing something good". According to research, giving to charity makes us feel better - happier even - and what better reason is there than that?
Copyright © 2015 Amy Woodcock.
Further reading: