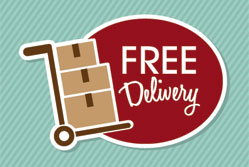 Did you know that 83% of people are willing to wait an extra two days to receive an online order if they get free delivery?
According to a recent ComScore study, consumers are perfectly happy to forgo instant gratification if they don't have to pay for delivery charges.
That's how important free P&P is to online shoppers. But it's just one element of why free delivery is so important to consumers and why it can actually pay for itself several times over for an online retailer who offers it.
Don't put a roadblock in front of the shopping cart
If the products you sell are available in a store, then it doesn't make sense to charge for postage. This is especially true if your product is sold in a department store where the consumer will have more choice for competitive products and you run the risk of them buying something else there.
The last thing an online retailer wants is for a shopper to abandon their shopping cart and head down to their local retailer simply to avoid delivery charges. That's a lost sale that might have been prevented.
When a shopper is making an online purchase, they are, for the most part, already committed to a brand. But they can very easily jump ship when faced with delivery charges.
According to the Wharton School of Business, over half of shopping cart abandonment is due to delivery costs. Wharton's Professor David Bell reveals that: "A free shipping offer that saves a customer $6.99 is more appealing to many than a discount that cuts the purchase price by $10."
Free delivery increases average order volume
Why is free postage so important to online retail success? These compelling statistics have been gathered by Demac Media in this infographic:
Nearly half of all online orders currently include free delivery;
Free P&P increases average order volume by 30%;
52% of abandoned shopping carts are due to P&P costs;
58% of shoppers surveyed said they abandoned their shopping cart because postage made the purchase cost higher than expected;
57% loaded up the cart to compare against competitors;
50% said they abandoned the cart because their order wasn't large enough to qualify for free delivery.
Why free delivery is good for your business
Here are some of the business benefits of offering free postage:
Short-term gains. Free delivery can immediately boost online sales.
Larger orders. Free postage can lead to larger orders particularly when retailers set minimum purchase thresholds.
Long-term gains. Many online shoppers will only buy from merchants that offer free delivery, so, when it's offered, merchants should expect to acquire new customers.
Repeat purchases. Free P&P can contribute to the lifetime value of those customers that a merchant might not otherwise have achieved had it not been for free or discounted delivery.
Staying competitive. Customers are more likely to leave a merchant and shop at a competitor site if they are offering free delivery.
How to keep your costs down
Of course, offering free delivery will add to the cost of a merchant doing business. However, you don't have to offer free P&P on every item at all the times in order to increase sales or become more competitive.
Here's how to manage your costs:
Offer free P&P with minimum thresholds. Setting minimum order value thresholds encourages larger orders and reduces risk. It's more realistic than free delivery on everything.
Offer free delivery on certain Items. Perhaps on products with higher margins.
Offer free delivery at certain times of the year. Target peak events such as Christmas.
Offer free delivery to certain locations. Setting geographic parameters either within country or on an international basis can help control costs.
Offer free delivery on returns. No-one wants to pay to return something that doesn't fit right or, worse, arrives damaged.
Offer flat-rate postage. While not free, shoppers will immediately come to the conclusion that larger orders are more economical.
Free delivery is something consumers expect and appreciate. When a merchant does something the consumer is happy about, they are building loyalty. So free delivery should be seen as a loyalty deliverable.
In exchange, merchants could consider asking for account registration or some other option to gather more information from the consumer or require the consumer to opt into email lists.
But what it really boils down to is removing a roadblock. The easier it is for the consumer to click the "buy" button, the more likely it is that they will go through with their purchase. And isn't that what we all want?
Copyright © 2014 Greg Shepard, ceo of AffiliateTraction.