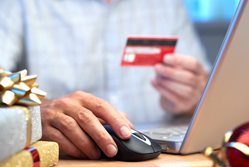 Online sales this Christmas are likely to be worth about £13bn – up by around 14%. But small online retailers need to plan ahead if they want to take advantage of the seasonal spike in demand and get ahead of their competitors. Here's how to make sure your online marketing strategy hits the mark.
1. Get your website in order
Mobile ecommerce (m-commerce) has been growing significantly and it accounted for 34% of total web sales in Q1 2014 according to Capgemini and IMRG. So it's essential that your website offers your customers a good mobile shopping experience and that your emails are mobile responsive.
Also, make sure your checkout process is as efficient as possible. Become the customer and try buying something from your website. What are the barriers to completing the purchase? Does the basket remember what you added when you drop out or shop later on a different device? Does your checkout scream "secure"? Are you upfront about delivery costs? Are you converting as many of your visitors into purchases as possible?
2. Get your PPC campaigns ready now
Planning ahead for pay-per-click campaigns (PPC) means you can react quickly during the busy Christmas period. Create dedicated campaigns well in advance as ads can take a couple of days to approve and make sure you have a backup form of payment so your ads never go offline.
3. Consider your SEO strategy well ahead of time
Competition for online traffic is relentless and one of the most common problems is that work on Christmas SEO does not start early enough. It is time to identify your key products and ensure there is a clear and defined path in the navigation to them. Put special offers in to your meta descriptions to improve click through rates and add any new Christmas URLs in to your sitemap to ensure the search engines know you have new seasonal pages on your site.
4. Have a stress-free email marketing plan
Email marketing for Christmas also needs forward planning. You're going to be competing for subscribers' inboxes by October so start putting together a plan of ideas, including send times, content and subject lines. Try re-engaging with customers that have been inactive by offering them incentives to come back, and make sure you review any trigger emails such as Abandoned Basket or Welcome emails to make sure they have the festive touch.
In addition, analyse customer buying behaviour and don't disregard customers that have not bought from you for over six months, as these customers may well just buy from you at Christmas, so target them with a different message to other regular customers.
5. Affiliate programmes
Do you have an affiliate program? If so, make sure every incentive and placement is locked down by October. Premium ad placements on newsletters and key affiliate sites get booked up early so don't leave it too late to book. Giving affiliates a significant amount of lead time ahead of promotions will help them match up your promotions with their onsite messaging, increasing the relevance for the consumer and thus improving the conversion rate.
Copyright © 2014 Al Keck. Al is a digital and online marketing consultant and managing director of South West retail e-commerce specialists toinfinity.