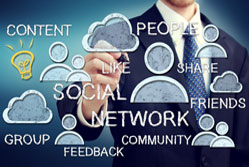 Many small businesses I speak to are worried about using social media. It's understandable; after all, social media puts you and your company in the public spotlight and there's always the risk that you may get negative online reviews as well as positive comments.
Indeed, that's usually the biggest concern ­– what if a customer complains and leaves a negative review? Their comments are out there in public, posted, shared, re-tweeted. Everyone can see them!
But think of this – you may well have had disgruntled customers in the past but you just weren't aware of them. Now look at the role of social media from a different angle – if someone leaves a negative comment on Twitter or Facebook (and they will!), you have a valuable opportunity to address the issue.
This enables you to take a two-pronged attack – damage limitation by resolving the problem and turning the situation around by converting a complainer into a brand advocate.
So, how do you go about it?
Be vigilant and monitor what is being said about your brand on social media. There are various monitoring tools available, such as Google Alerts, which can be set up for your brand and specific keywords (as well as competitors). Other tools include Social Mention, probably one of the best free social media listening tools on the market. In addition, Ice Rocket offers free blog, Twitter and Facebook monitoring in 20 languages.
Don't forget to set up Hootsuite or TweetDeck (if you use either of them) to flag your Mentions on Twitter too!
Check in on your Facebook page and Twitter regularly. If your business gets reviewed on sites such as Trip Advisor, make sure you monitor that too. Likewise, find out about any forums or communities that may be of interest to your customers.
Think before you react. Not all negative online reviews will merit a response. If something has been posted on an obscure forum with few members, it's probably better to just ignore it. Your response will only bring attention to the problem, rather than allowing it to quietly sink beneath the radar.
If you need to respond, do it as quickly as possible. There's nothing worse than a complaint going unanswered for days or weeks. The customer may have vented their spleen but a lack of response will cause more anger and others may pick up on this. Always acknowledge the customer, even if you need to look into the complaint in greater depth. Let them know that you'll be back in touch and offer to get in touch offline in the meantime.
Keep it friendly and avoid sarcasm. If you ever read Trip Advisor reviews and responses, you'll know what I mean – there's nothing worse than an outraged hotelier posting a bitter response to a review. An online slanging match will do you no favours whatsoever. Keep things polite, make sure you come across as "human", it will make so much difference. Ideally respond publicly and provide a resolution, and then take it offline by emailing or calling the customer to go over details such as refunds or compensation.
Decide how you can fix the problem. Apologising is one thing, but even better is showing an effective solution to the customer's problem. For instance, if they have a product that hasn't lived up to its promise, you might offer to replace it with a superior item at no extra cost.
Show your customers that you care
Remember that social media also gives you a platform on which to publicly demonstrate that you care about your customers. Many people prefer to deal with complaints offline. The trouble with that is that your sincere apology and the way you resolve the issue won't be in the public domain. However, if you do it online you are being completely transparent and you may just call a halt to droves of similar complaints being posted.
Make someone happy and there's every chance that they will relay the good news to others, turning a complaint into positive PR and building some good brand awareness at the same time.
Copyright © 2015 Sarah Orchard, an expert contributor to Marketing Donut and a consultant at Orchard Marketing Associates.