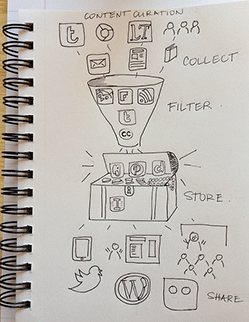 Content is the currency of the internet. People go on the internet to find answers to everyday questions like, "What's the weather like in London?" or even, "What are the health benefits of broccoli?". And it's the duty of every business to provide content that answers the needs of their target audience.
However, there will come a time when all your ideas for relevant posts will be exhausted. Since search engines look into content freshness as a basis for ranking, what can you do to create a steady flow of new articles on your site? The answer lies in content curation.
What is content curation?
Simply put, content curation is the finding, selecting and sharing of content related to a certain theme or topic. The practise of curating content has long existed in the publishing world to give readers a digested version of what they should know about. It's human nature to want to learn more about something you stumble across.
Putting that into a business perspective, don't you want people to access this information from your website? That's where the power of content curation lies.
What can curation do for your website?
Whatever the services you offer or products you sell, you can usually find interesting content to write about. But you hit a problem when you've seemingly exhausted everything useful you know about it.
This is where curating content comes to the rescue. It's the not-so-secret reason behind the success of sites such as Buzzfeed, Huffington Post and Mashable. They've all found ways to present a wide variety of information to readers in interesting ways.
Getting information from different sources and posting them on your website makes it:
• A source of relevant information.
People have a constant need to be informed, and with the multitude of information published each day, they only need to know about content that is useful for them. This is where you come in. Rather than having them scour the web for information, bring it straight to them.
• A frequently returned-to knowledge resource.
Constantly putting out curated content makes people come back for more. This helps establish your brand as an authority on topics concerning the niche your business is in.
Publishing curated content on your website also helps drive traffic, which is what any business wants. This is best accomplished by creating a catchy title to accompany the equally entertaining content.
Where can you look for information to curate?
There are lots of content curation tools you can make use of.
1. Social media
Mining Facebook, Twitter or Google+ allows you discover content before it gets indexed by Google. For example, you can embed tweets of interesting things Twitter users are saying about a particular topic into a single post.
2. Quora and other Q&A websites
Using question and answer sites gives you access to some really interesting content you can use on your site. You can list some interesting questions and answers you found and compile them in one article.
3. Digg and Reddit
Take cue from a Huffington Post article that used Reddit answers to create content about embarrassing text messages sent to the wrong person. You can scour Reddit threads for relevant questions and feature the answers in a blog post.
With Digg, you can gather a list of articles and publish this in your own article. Better yet, create a list post along the lines of "Five must-read posts about pencils", for example.
Stay up to date by looking at the news. Simply filtering Google search results to "News" gives you a list of sources that talk about subjects related to your own market.
You can also do something similar to what MSN Now is doing and write a short summary, then link to the original source.
With Flipboard, you can search for articles and creatre curated content for your website. Unlike Flipboard, Zite is a mobile-only application — so far — where you can get a list of articles based on a particular topic. You can create list posts out of the results you receive.
5. Multi-media searches
Articles are not the only form of content at your disposal. You can search for relevant pictures and videos and feature them in an article. Instead of just embedding a photo or video in a post, take time to write something short about it.
To curate or not to curate, that is the question...
Sure, curating content is a lot easier than creating content. However, this doesn't mean you should feature curated content all the time. It's also important to publish articles of your own because this demonstrates your expertise in your field. Use content curation to supplement content creation — a good mix of both provides a steady stream of articles for your website.
Richard Eaves is a digital marketing specialist for Smart Traffic.