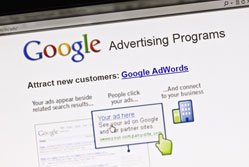 Pay-per-click advertising campaigns can deliver traffic, click-throughs, conversions and ROI. But managing PPC campaigns effectively also calls for patience, expertise and diligence.
Recently, a client of ours learned just how important it is to make sure AdWords campaigns are set up properly.
For weeks on end, they couldn't figure out why their organic traffic levels had plummeted. In fact, their organic traffic levels decreased by 45% in just two days.
Such a big and sudden drop in traffic levels is usually triggered by a technical glitch but even though we ran every possible technical audit to figure out what had made such a massive impact on website visitor numbers, we found nothing that could have caused such shockwaves.
We were still wracking our brains when our head of digital had a light bulb moment – incorrect Adwords tracking.
Paid search had been classed as organic…
All their paid search had previously been categorised incorrectly as organic traffic until we updated their PLA which fixed the problem.
There are always going to be discrepancies between data in Analytics and Adwords. Analytics is not 100% accurate whereas Adwords is – but they should be relatively on par with one another.
Now that we've fixed the problem, the results are accurate. However, the traffic data has been skewed for the year so the business won't be able to analyse year-on-year stats until April 2015.
Top tips for pay-per-click campaigns
If you decide to run a pay-per-click marketing campaign, it's well worth seeking expert help to ensure it is all set up correctly. If you are a PPC newbie, here are eight top tips for setting up your campaigns:
Carry out detailed keyword research
Include keywords in your ad copy to maximise quality score
Determine your PPC budget
Bid on brand terms
Test your ad copy, then test and test again
Make sure the landing pages are relevant
Get comfortable with the basics before you try advanced features
Make sure tracking is enabled correctly!
Copyright © 2014 Lauren Grice, content strategist at web specialists, Bespoke.