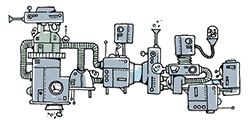 There are many elements to a brand.
They all need to work harmoniously in the machine that is your business. We have identified the five key components that, when functioning properly, will connect your brand with it's audience.
Consistency
Digital, analogue, environmental.
Wherever seen, used, discussed or heard, your brand needs to be consistent. All this matters.
Clarity
When talking about your brand, you need to be clear who you are. This prevents confusion for stakeholders, therefore increasing engagement.
Communication
Whatever you offer it needs to be talked about through the most appropriate channels. Make yourself heard above the whirring and clanking of your competition.
Confidence
Once your brand is out there in the business world, don't be afraid to evolve and adapt. Start it up and never stop.
Colleagues
It's vital that your team functions as a unit, embracing your brand values, vision and aims. Inspire them to bring their own career goals in line with your brand, ensuring success for all. With all these in place, there's that can't-quite-put-your-finger-on-spark that every successful brand has.
This can be a man, a mind, a machine or a means.
Yours is there to discover.
David Leatt is the managing director of Origination, a Derby-based creative agency celebrating its 25th anniversary.