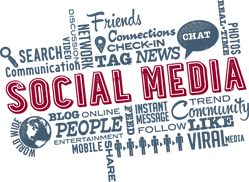 We are often asked how often businesses should post content online. It's a tricky issue.
There is a fine line between appearing too spammy on the one hand and positioning yourself as a helpful expert in your field on the other. Each platform has its own "rules" when it comes to the frequency of posts. These have evolved and been developed by those who use the platforms regularly.
Here's what we have found works best in terms of frequency of posting:
LinkedIn
Post once a day from your personal account and company page as a maximum. Sharing interesting and relevant content will position you as an industry expert and give people a reason to connect with you. However, be careful about posting within groups; anything that's too self-promotional will get moved or removed. Don't be seen as a spammer and post too often. Not only is this highly annoying, but people will start to wonder what you do as a day job as you've clearly got too much time on your hands! Be selective about what you're posting and ensure your messages are consistent.
Twitter
Posting up to five tweets per day is quite acceptable – include retweets in this count. Don't send inane tweets; if you have nothing to say then don't force it, there's nothing worse then someone who shares every aspect of their day with their Twitter following.
However, if you're a content provider then you may have many more tweets to send out. If these are relevant and informative and if you've got the content, then tweet away to your heart's content. You can also break your content down into different points, allowing you to share the same article with a slightly different angle. Post these at different times of the day and ensure you include the relevant link.
You could also consider the following:
Use no more that three hashtags per tweet. Using too many hashtags is not only annoying and makes your tweet hard to read, but it lessens the impact.
Don't be afraid to ask for retweets if you want to spread the word, this will encourage people to share your posts.
Research has found that tweets of less than 100 characters receive more engagement than longer ones. So consider condensing your tweets and use a URL shortener.
Facebook
Post once a day from your company Facebook page, otherwise people begin to switch off. Ensure you use images and links to make your posts more engaging – Facebook is a very visual platform. People see hundreds of bland posts on their home feed so make sure you offer a call to action to encourage people to interact.
Google+
We're still unsure on Google+ as an engaging social platform. However, to drive traffic to your website and show up in Google searches you need to be sharing your content on here. Post once a day from your company Google+ page – any more and people start to switch off.
Copyright © 2014 Emma Pauw is social media writer at We Talk Social/a>.