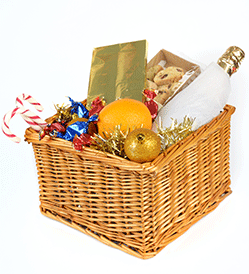 We were delighted to receive a sample Makro hamper recently, aimed at small businesses that want to treat their favourite customers at Christmas.
So we thought we could spread some Christmas spirit of our own by offering it as a prize in a little just-for-fun competition.
Then we started looking at the rules…
These are just some of the things we learned:
If there is a substantial element of skill, it's a competition. If it's a game of chance, and you're randomly picking winners, then it's a prize draw.
You must state what the prize is and how many are available.
Your terms and conditions need to include:

Any necessary restrictions, such as age (18+) and geographical location (UK);
How the winner will be chosen. (If it's randomized, this tool might help);
A closing date and time — the date by which entries must be received;
How and when winners will be notified of their win

Explain that they can only enter once. Duplicate answers will be deleted.
Facebook has its own rules — a like and/or comment cannot count as an entry.
You must also exclude immediate family of yourself and the promoter, and anyone else professionally connected to the prize promotion, such as the PR agency or company providing the prizes.
Hampered by the rules
In short, our lovely hamper has begun to look more like a hot potato.
So, we're going to run a non-competitive competition, in the spirit of the age, and publish tweets that make us think or make us laugh, but won't be giving any prizes (details below).
As for the hamper, we're going to do what it was designed for in the first place, and simply give it away. We think that a not-for profit organisation that works hard to help get small businesses off the ground ticks all the boxes. So we hope that Brave, a Bristol-based enterprise organisation, can sample at first hand what it feels like to receive a gift with no strings attached.
Liz Dawe is the Donut Community Manager at Atom Content Marketing
What's the best/worst thing about being your own boss? We'll publish those that make us think...Or laugh #DonutBoss
There is a good example of some "giveaway" rules in detail on the Tech Nutty website. You can also read Sarah Orchard's great article on how to run a competition on Facebook without breaking the rules.