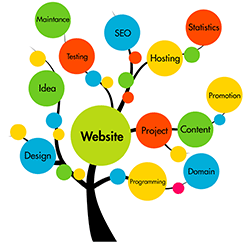 This year, Google has made significant changes to its search engine algorithm, most notably their "Panda" update which devalues sites with poor quality content.
Poor quality content can be anything from plagiarised or duplicate content to text littered with SEO keywords clearly designed to manipulate the search rankings.
Small businesses which have website content that is not up to scratch will find themselves plummeting down the rankings, losing both vital traffic and potential business. So how do you create content for your website that's inspiring, compelling and, most importantly, genuinely useful to your customers?
Identify personas
The best place to start is by identifying and researching the behaviours of all of the different types of people that use your services. We're an airport parking specialist, so we understood that families going on holiday regularly book with us. That's a good starting point but the trick is to delve deeper.
We looked at what issues families may face when travelling to the airport. For example, they tend to be carrying a lot of luggage plus buggies and their children and, as a result, can take longer to get to the airport than most people. Therefore the start of their holiday is often a stressful time. How could we help them further when they book with us?
Providing a solution
If you've identified all of the different types of people that may use your services then the next step is to delve into online forums and social communities relevant to your customers to find the kind of questions that they are asking. These questions can be used to generate ideas for content.
Continuing the families' example, we looked into various parent forums online and saw that they were asking questions such as "what are the regulations with taking food and drink through security?" So we created in-depth content to answer these questions including a guide to Heathrow security and a family travel guide looking at packing, researching and booking a holiday, getting to the airport and what to do at the airport.
Extending your reach
So you understand your customers and have created content to answer their questions — now you need to consider how you're going to spread the word far and wide to let more people know that your content actually exists.
Create a detailed seeding plan looking at relevant sites to approach with your content and consider writing and distributing a press release to send out via online newswires to help spread the word.
Time well spent
All of this may seem time consuming, and it is! However, if done properly, your efforts will be well worth it. Off the back of our new and improved content we've seen big increases in traffic to our website, better conversion results and increased overall revenue. Content is most certainly king.
Oliver Inwards is e-commerce manager at Purple Parking.
We have lots of great blogs and articles about creating website content to help and inspire you:
• Why content is king in today's marketing
• How to promote your business by writing a killer case study
• Keep your sentences short — and other secrets of good writing
• Q&A: Is your blog up to the job?