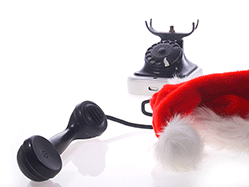 You have worked hard all year, hit your targets and enjoyed the office party. But while your staff take a break, you face a bleak time minding the office phones in case any of those last minute orders go astray.
Alternatively, you could sneak off, put on your slippers and sit by the fire with your family, safe in the knowledge that all your calls are taken care of, even with no one on the premises.
How? By being in your virtual office. A virtual office is a modern day solution to this age-old problem, allowing you to have a Christmas break and a business. Even when small businesses are growing too fast to meet demand, it's so easy to create a professional, established image by using virtual office or receptionist tools.
Small companies now have an advantage; unlike larger companies, they don't need expensive fixed phone lines or the premises to house them in. Using mobile and virtual office technology they can respond quickly and cost-effectively to customer queries — no matter where they are in the world.
Service with a smile
By creating a virtual office with an e-receptionist to answer calls, smart businesses are gaining all the benefits of a real life receptionist (or an expensive PBX system) at a fraction of the cost. There's no hardware or software to be installed or support. All you need is an existing phone line and that includes the mobile in your pocket.
Using a virtual landline number (a real number but without needing a fixed line) you get the benefits of the professional image that a landline number brings to your business as well as a welcome greeting and caller menu bespoke to your business.
You can also choose a local landline number — anywhere in the UK — as customers often choose local numbers for that first call. Or you can bring your business to national attention and get calls from all over the country with a non-geographic or freephone number.
Always connected
Calls can be forwarded to any location, whether to your home, mobile, hotel room  or even to your mum and dad's house! And adjusting your call routing can all be done online.
Finally, with a cloud provider managing your business calls, you'll get all the quality of regular business phone line - without some of the dropped calls or quality issues that users sometimes find with VoIP.
All in all, having a service like this allows you to enjoy your Christmas break, safe in the knowledge that you're not missing out on business just because you're away from your desk.
Rory Whelan is voice marketing manager at j2 Global, whose services include eReceptionist.