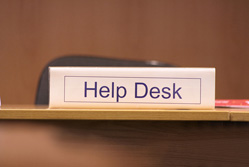 Response to customer enquiries is crucial to success. Get it right and punters are likely to keep coming back to you. Get it wrong and they will go elsewhere. So how do you go about it? Kat Knight provides the answers.
It has been estimated that poor response to customer enquiries loses an average small business in the UK four customers each year - thought to amount to some £16,000 in profit.
"Most enquiries are requests for information about products or services," says business development expert Dan Huckle.
"People initially ring up to enquire, not to buy, and your call might be one of several they make to different businesses. How you respond is vital because the caller will compare you to others they contact."
So how can you distinguish yourself from competitors? "A swift response is always impressive, but so is correctly establishing what the caller actually wants, and why. Listen to what they are asking and don't be afraid to ask them questions."
Your demeanour on the phone is also important. "The caller expects you to be knowledgeable about your product or service," says Huckle, "but also wants you to be approachable. People appreciate a personal service. Follow up on what you say you'll do and keep in touch to provide regular updates."
Even at this early stage you should aim to exceed expectation, he argues. "If possible, improve on the timescale you've set," advises Huckle. "If you've said you'll respond with more information within 24 hours, answer more quickly. When you do, show the caller you've understood their needs."
Huckle warns that slow, vague or stock responses to customer enquiries will lose you business. "It reflects badly on your business. If you can't answer questions or don't get back when you say you will, you're not showing an eagerness to meet that person's needs."
If the enquiry is a complaint from an existing customer - don't panic. If handled correctly, a complaining customer can become one of your biggest fans. "Some of the best business relationships are ones that start with problems," Huckle explains.
"Own the problem," he advises. "The customer wants to know that their problem will be fixed. Thank them for alerting you, and listen to them. Make sure they know you will sort it out. Go away; do some research; get back to them when you say you will; and get them a result."
Huckle has some encouraging words for small firms. "They're in a great position to compete with larger companies on customer service. They usually have the flexibility to go the extra mile to make customers and potential customers feel valued. Make the most of the personal service you can offer and you'll reap the rewards," he concludes.