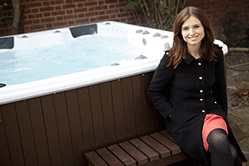 Testimonials are powerful persuaders. Customer endorsements on your website and publicity materials offer real proof that you can deliver on your promises. If that satisfied customer happens to be a celebrity, so much the better. Daniel Thomas reveals how he persuaded one happy customer (and star of Strictly Come Dancing), Sophie Ellis-Bextor, to star in a promotional video on his website
Daniel Thomas has been selling hot tubs online for the past seven years through his business, Danz Spas. During that time he has sold thousands of hot tubs to every corner of the UK as well as to mainland Europe.
But when Daniel decided to investigate paid-for celebrity endorsement for his products as part of a PR push he was shocked by the cost. He said: "I put out some feelers to the agents and representatives of certain celebrities to ask if they would be interested in endorsing a hot tub. The answers I got back were stunning. The amount of cash some of them wanted was astounding. There was no way I was going to pay that kind of money. It was back to the drawing board."
Customer testimonials
Returning to his PR efforts, Daniel decided to concentrate on testimonials and endorsements from his database of satisfied customers. It was while he searched through his customer records that he had a light bulb moment. What if he already had a celebrity as a satisfied customer? He'd then be able to ask them for genuine feedback which he could use as an endorsement.
With this in mind he returned to his database and began scanning for famous names. There were, it turned out, quite a few. Daniel found that the Danz database included a number of high profile sportspeople, pop stars and TV presenters.
Star customers
Daniel then decided to call each of these high profile customers and ask them if they were happy with the product and the service they had received from his team. They all said yes and so he then asked if they would be willing to put their name to a testimonial for his website which he could use for publicity material.
A number of the famous customers referred him to their management but Daniel struck gold in the form of singer and Strictly Come Dancing star Sophie Ellis-Bextor. Sophie had bought a hot tub from Danz in 2011 and was thrilled with it. She said she was happy to help and even agreed to a filmed testimonial at her home in West London.
The celebrity factor
Daniel hired a professional presenter and a film crew for the day, and the filmed testimonial is now on his website.
In the interview Sophie says: "My husband Richard wanted a hot tub so we thought we'd treat ourselves to the real deal. It feels a little bit like a holiday moment really because we can both get in there and really unwind and chat about what's been going on."
Daniel says having Sophie as a happy client has boosted staff morale as well as shining a light on his company. He said: "Sophie was amazing and a real pleasure to work with. We are so grateful to her for agreeing to a filmed testimonial for our website."
Finding a brand ambassador
Daniel hopes the video will encourage other business owners to seek out celebrity endorsements from their customer base. "When we're running our businesses it's easy to forget who our customers are," he says. "After all, celebs are only people and they buy things from all sorts of different companies."
"It's certainly worth checking through your customer database before forking out big money on an ambassador for your brand. You may already have one as a satisfied customer, and if so they will be much more amenable to lending their support to your product."
The fact is that customer feedback and opinions matter. A high-profile customer could present you with a valuable opportunity. But don't forget that all of your customers have to power to persuade — through testimonials, case studies, in reviews and via good old-fashioned word of mouth.
More on this topic: