November 29, 2013
UKTI backs creative businesses in export drive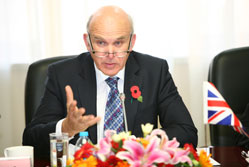 UK Trade & Investment (UKTI) is to support a taskforce of the UK's top 100 creative sector SMEs to help them win £500 million worth of high-value, overseas contracts in the next three years.
The initiative is part of a government plan to get 100,000 more UK businesses exporting.
Until recently the market for UK creativity was limited largely to Western Europe, but demand for British creative expertise is escalating according to UKTI.
 The interest, particularly from emerging markets in Asia and the Middle East and countries like Russia and Brazil, is based on Britain's reputation as a leader in creative industries.
Business secretary, Vince Cable, said: "The creative industries account for around £1 in every £10 of the UK's exports and are crucial to building a stronger economy. The growing appetite for British design offers many opportunities for innovative firms of all sizes to boost their overseas trade and attract new investment. Collectively the creative industries already generate more than £36 billion a year for the UK economy and employ 1.5 million people."
He added: "With new support from UKTI, we want to help creative SMEs access more high-value supply chain opportunities across the globe."
Companies on the taskforce include Zaha Hadid Architects, The British Museum, AKQA, FutureBrand, Mother, ES Global and Populous. Each company will have its own international expansion plan and participate in a minimum of two overseas visits each year to target high-value projects.
They will also receive training, support and networking opportunities and work with International trade advisers to identify potential overseas projects.
Image credit: bisgovuk on Flickr.
Related resources: