September 27, 2013
Most small business owners want lower VAT rate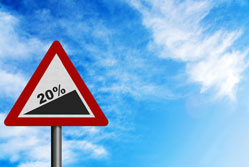 Three out of four business owners (77%) believe that the standard VAT rate of 20% is too high and want to see cuts in order to help them grow their business.
The survey conducted on behalf of Sage polled 400 business owners and it found that almost half (41%) believe that paying less VAT would help their long-term prospects by enabling them to expand their business. In addition,10% of business owners said that it would free up more funds to help them retain staff.
The research also identified the level of cuts that business owners want to see. One in three people (32%) said they would cut VAT by 2.5%, returning it to pre-2011 levels, but for almost half of all respondents this wasn't enough – 45% of business owners said that VAT should be reduced by more than 5%.
"For many businesses, VAT remains an Achilles' heel," said Lee Perkins, managing director for Sage Start-up and Small Business UKI. "The nuances around reclaiming VAT mean business owners suspect they are not getting all the money they are entitled to."
He added: "Although a reduction in VAT would certainly help businesses, the fact that we are now starting to see tangible growth at the same time as tackling deficit means that it's not something we are likely to see in the near future. Therefore the focus has got to be on making sure your business is making the most of the current VAT set-up. I'd urge everyone that is VAT registered to spend an hour checking you are claiming back on everything that you could be."
Related resources: