October 25, 2013
More signs of business optimism as economy grows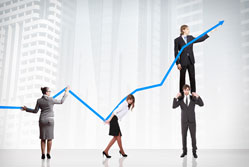 Orders are up, output is increasing and British manufacturers are more optimistic than ever, according to the latest CBI quarterly Industrial Trends Survey.
The survey of more than 350 manufacturers reveals that optimism among UK manufacturers rose at the fastest rate since April 2010. In addition, total new orders grew for the second consecutive quarter and at the fastest pace since April 2012, with growth in the volume of domestic orders at its highest rate since April 2011.
However, the research finds that manufacturers' investment intentions present a mixed picture. Plans for spending on plant and machinery have declined in the past quarter but they have strengthened for "intangibles" such as product innovation, where investment intentions were the strongest for six quarters. And plans for spending on training and retraining were the strongest since October 1997.
The key findings of the CBI survey are:
32% of businesses were more optimistic about the general business situation than three months ago and 8% less, giving a balance of +24%;
30% of businesses reported an increase in total orders and 24% said they decreased, giving a balance of +6%;
the balance for new domestic orders (+10%) was the highest since April 2011 (+15%).
Looking ahead, a balance of +14% of manufacturers expected total new orders to increase, with a balance of +13% expecting domestic orders to rise and +7% expecting export orders to go up.
Difficulties ahead include the lack of skilled labour – cited by 21% of firms, the highest since July 2012. And a survey record high of 18% of firms cited labour shortages as a factor that is likely to limit capital expenditure.
Also out this week are the results of a poll by Regus that suggests that SME confidence has risen at its sharpest rate for four years. According to its six-monthly Business Confidence Index, which represents the views of 1,900 small business owners, nearly 10% more firms reported a rise in profits during the six months to October than in the previous period.

Related resources: