January 17, 2014
Email overload is damaging productivity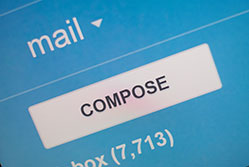 An hour per employee is lost every working day because of ineffective use of email – representing a cost of £4,200 per person per year.
These are the results of new research by email expert Dr Monica Seeley.
Global email usage has surged – around 507 billion emails are sent every day – and many email users are locked into a cycle of dependency and misuse that saps productivity, says Seeley.
A typical European business user receives about 67 emails per day; in the USA, it's about 100 per day.
Dr Seeley said: "It's no wonder many people can't keep up with their inboxes and simply declare email bankruptcy. But most of us need less than half the email we receive. On average one hour of productivity per person is lost every working day of the year – a substantial and completely unnecessary business overhead in the current economic climate."
Next week marks the seventh International Clean Out Your Inbox Week. Dr Monica Seeley will join email experts in the USA and Australia to encourage businesses and individuals to take control of their email at the start of the new business year. The experts will be posting tips to help users clean up their inboxes.
Meanwhile, the latest figures from the UK Email Marketing Benchmark Report shows that email marketing is delivering better results than ever for small businesses.
Based on analysis of over 1.5 billion marketing emails sent by UK SMEs during 2013, the report shows that the average open rate increased to 22.9%, from 21.5% a year ago. The average click-through rate also increased to 3.26%, from 3.16% last year.
Those in the sport and leisure category saw the biggest improvement in responses, followed by the restaurant and hospitality sector. The full report by Sign-Up.to analyses open rates, clicks and unsubscribes as well as user engagement and loyalty.
Related resources: