November 29, 2013
Christmas shoppers to spend over £10bn online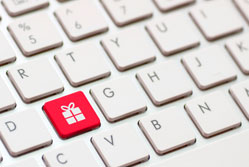 Most Christmas shoppers are expected to buy more than half of their gifts online this year.
According to new research by Rackspace, there will be a total UK Christmas spending pot of over £18 billion – and about £10 billion of that will be spent online.
The survey of 2,000 UK adults, conducted by OnePoll for Rackspace, reveals that the average overall Christmas budget will be £375, with 35% of respondents saying they intend to spend less in 2013. However, 41% are still unsure of what their total budget will be. And 56% say they intend to spend more than half of their budget online.
Despite the convenience of online shopping, 63% of respondents said they were disappointed with an element of their online shopping last year. The most annoying issues are complicated check-out procedures (33%) and slow websites (28%). These frustrations led to 48% abandoning their purchase and 34% trying a different website.
The number of online shoppers using tablets and smartphones has increased dramatically in a year. 21% of UK adults say they will shop online using a tablet (up from 12% in 2012), while shopping on smartphones is up from 11% to 16%.
The survey also revealed:
Women are more intolerant of slow websites than men and are more likely to abandon a purchase.
Consumers choose online shopping mostly for convenience, followed by price. A quarter shop online to avoid Christmas crowds.
On Christmas Day, 65% of people will go online to contact friends and family and post pictures on social media.
"With competition high for that £10 billion, online retailers can't afford to lose custom due to frustrations caused by slow websites or check-outs," said Jeff Cotten, managing director, international at Rackspace. "Businesses need to ensure their websites have the support structures in place to cope with the surges of traffic and festive demand."
Related resources: