November 01, 2013
"Trailblazers" to shake up apprenticeships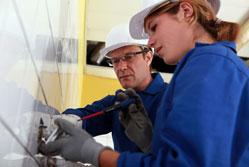 Improved apprenticeships – bringing greater benefits for the learner and ease of use for employers – have been announced by prime minister David Cameron. They will be led by "trailblazing" businesses in key sectors.
Under the reforms, employers will be put in the driving seat to create new apprenticeship standards that will deliver the necessary skills for businesses and learners. The new apprenticeships are expected to start in 2014.
Over 60 companies – known as "trailblazers" – are shaping the new look apprenticeships and the reforms have been developed in response to last year's Richard Review by entrepreneur Doug Richard.
Matthew Hancock, skills and enterprise minister, said: "We asked Doug Richard to review the apprenticeship system and tell us what was needed to make the British system a world leader. Our reforms will do just that and I am pleased to welcome industry leaders as Trailblazers to make the new system a reality. Our aim is that the new apprenticeships will focus squarely on rigorous training for learners and simplicity of use for employers."
The new apprenticeships will be:
employer-led and designed to meet the needs of specific sectors;
focused on quality and featuring rigorous assessment;
graded on completion (pass, merit, or distinction).
David Cameron said: "If you want an apprenticeship, we're going to make sure you do the best apprenticeship in the world. The reforms we're announcing today will put employers in the driving seat and ensure that we deliver rigorous training that supports you and our economy for years to come."
Small business bodies welcomed the news, but questioned whether the proposals would work for SMEs.
Dr Adam Marshall, director of policy and external affairs at the British Chambers of Commerce (BCC), said: "A 'one size fits all' approach will not work. Smaller firms inevitably have different requirements to larger businesses. For apprenticeship reform to succeed, businesses of all sizes and all sectors must be involved in the reform process, to ensure that new apprenticeship standards meet diverse business needs."
John Allan, national chairman of the Federation of Small Businesses (FSB), said: "Government must ensure small businesses maintain confidence in the apprentice scheme. These schemes should be recognised as vital introductions to careers that can take an individual all the way to the top in the business."