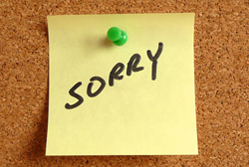 You're bound to receive a complaint at some time. Even if you think the customer is in the wrong, it pays to treat their concerns seriously - your response could have a wider impact on your reputation than you think, says business writer Jo Russell
It's hard to get excited about receiving a complaint and you could be forgiven if your first reaction is, 'This could be time-consuming, costly to deal with, or could spell trouble'. But complaints are a fact of business life - no matter how dedicated you are, you just can't please all of the people all of the time.
So complaints will happen. The way you deal with dissatisfied customers, however, could have a huge impact on customer retention and acquisition, and on your reputation. Often quoted 1999 research suggests that on average an unhappy customer tells ten people about their experience. Each of these ten tells a further five, meaning that a total of 50 people will hear about a single bad experience.
With the rise of internet chatter, this figure will have risen exponentially. Without the web, would anyone have heard about Andy Sharman's bad experience with a well-known tour operator? Probably not. As it is, it's been read by thousands - perhaps even tens of thousands - on his blog.
Apologise first, then sort it out
"It's almost like the wild west out there," says Neil Gleeson. "Consumers can now describe their experience to one and all."
Gleeson suggests that all complaints should be dealt with diplomatically, no matter what your view on the merits of the case. "There must be something wrong, whether rightly or wrongly, simply because the customer is not happy," he explains.

The first and most crucial step is to simply say 'sorry'. "On average, customers tell eight times more people about the organisation in a positive fashion if they have said sorry," Gleeson explains. "You can say that you are sorry there is a complaint, even if not for the underlying root cause of it."
Turn a complaint into good publicity
David Coakley, owner of The Bait and Feed Company in Hertfordshire, agrees. Coakley has gone as far as replacing items, leaving him out of pocket, even though he is convinced the fault lay with the client. But he believes it is worth it in terms of making customers feel valued and upholding reputation - now more so than ever with increasing use of the internet
"What people will say on the internet they would never say to your face," he points out. "A few years ago, I went onto a website and saw a man complaining about some bait that we had supplied, although he hadn't talked to me first. So I phoned him up. Within ten minutes he had gone back to the site and apologised for being out of order."
The once-unhappy customer is still a client and, as with all other clients, is able to contact Coakley directly by phone, email or via the firm's website. Accessibility is also a core element of good customer relations.
Develop a consistent approach to complaints
Dealing with customer complaints is something that all staff receive training on at RCB Solutions, a Staffordshire-based cleaning company. Good complaints management is seen at RCB as key to customer retention.
RCB are proud to say that they have never lost a contract due to bad service in more than ten years in business. The company also tries to learn from mistakes that are made. If a customer complains about an area that has been missed and not cleaned, for example, in addition to rectifying the problem immediately, the response would be, 'Let's look at the schedule and sort that out, as there obviously wasn't enough time'.

If handled correctly, most complaints can be dealt with to the satisfaction of both parties. There may, however, be occasions when a customer feels obliged to take matters a step further if they feel a company has acted illegally, in contravention of, say, the Sale of Goods Act 1979.
Citizens Advice deals with 1.5 million calls a year. They advise that it is often about being reasonable rather than resorting to the courts.
There are a number of other routes that a customer could take, including use of a trade association for mediation or arbitration. But for company and customer, this should be considered the last resort. That route is definitely costly, time-consuming, and has already spelt trouble.
More on this topic: