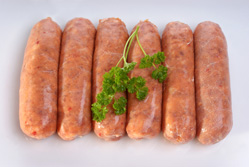 Wilfred Emmanuel-Jones, managing director of The Black Farmer, was born in Jamaica and moved to the UK in the 1950s. He grew up, the eldest son in a family of 11, in inner-city Birmingham. But from an early age he developed a passion for the outdoors - helping his father tend the family allotment. Here, he tells us how The Black Farmer brand came about and how he persuaded supermarket chains to stock his products
Wilfred spent his early career in television, becoming a producer/director for the BBC. Working with many of the UK's top chefs, he is credited with bringing many of the most familiar TV chefs to the small screen. From there he founded a food and drink marketing company. This move enabled him to eventually fulfil his life-long ambition to buy a small farm. That is where the idea for The Black Farmer was formed.
Wilfred says, "I set up the business in January 2005. By 2009 it was worth more than £1 million, employing six people and supplying sausages to Asda, Sainsbury's, Morrisons and Tesco. Since then we've expanded our range of products to include organic chickens and chicken products, bacon, cheese, burgers and meatballs.
"I launched the business because I wanted to produce premium-quality sausages that were affordable and aimed at the mainstream market. Many independent suppliers ignore the supermarkets and just sell locally, but I wanted The Black Farmer to be a national brand.
Getting the attention of the buyers
"All supermarkets produce their own brand sausages, so it's very difficult for a new brand to break in. I found out who the supermarket buyers were and targeted them. I had to be extremely pushy just to get them to take my call. I would ring twice a week, then email them - eventually they had to ring me back because I was making such a nuisance of myself. You have to be persistent.
"Buyers get tons of people wanting to see them. As a result they tend to be very cynical about new products. Once you're in there, you've got one chance to get it right. You have to be well prepared and know about the competition you face.
"Buyers know their consumers very well. So if you want to be a supplier, you also need to know their customers very well. Rather than just turning up with a sales pitch, you need to show them evidence that their customers are actually going to buy your product.
Brand building
"I've made a conscious effort to get the consumer on side by building my brand. I produced a seven-minute film showing me at county fairs selling Black Farmer sausages. It demonstrated to buyers that people liked my sausages and were prepared to pay for them.
"To get attention, you have to stand out from the crowd. Your product has to be different. There's no point going to the supermarkets with just another 'me-too' product that fails to excite.
"Supermarket categories these days lack personality. Own-label brands are all the same. Small firms need to remember they are the ones bringing some personality into the category - that is our advantage over own-label products.
Standing firm
"The line between compromising on quality to meet the price demands and pricing yourself out of the average consumer's shopping basket is very thin, but is a point which has to be found.
"Every single retailer I talked to about listing my sausages tried to make me reduce my price - to the extent that I wouldn't be making a penny. You have to stand firm. Once you settle for lower, you run the risk of the price spiralling down.
"I wanted an on-shelf price of £2.09 for a pack of six of my sausages. The supermarkets said no in the beginning, but I was convinced that consumers would buy at that price, and they have."
Lessons learned
Supermarket buyers like to deal with people with whom they have an existing relationship. Getting your product on their shelves is about collaborating with the supermarket's partners.
I chose a large manufacturer to produce and distribute my sausages - one that was already doing business with supermarkets. This made it a much easier process for me.