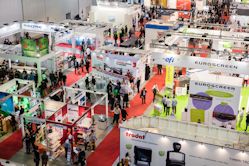 "Made in Britain" is a symbol of quality around the world, so making the most of it should be part and parcel of your marketing campaign if you are promoting your goods and services overseas. Rachel Miller explains how to approach international marketing and why it is worth doing
Find out if your product will travel. Many UK firms get occasional orders from overseas - thanks to the reach of the internet. But should you actively market your products abroad? Not every product travels well so if you plan to expand into new territories, find out if your product can be sold widely without having to be adapted.
Research new territories. Your experience and the resources you have built up in the UK means that you're not starting from scratch. But you need to know how to leverage them appropriately - and that means researching new markets and thinking about issues such as logistics, order fulfilment and customer service.
Assess the size of the market. How big is the market for your product in other countries? You'll have to see how established it is, find out how many players there are in that sector and how big the customer base could be. Are there any potential trade barriers or restrictions?
Adapt your marketing strategy. You may have a product that can easily cross borders but your marketing strategy will have to be adapted. Local values, customs, language and currencies will all impact on your marketing plan. Look at your unique selling points and your branding. Are they right for the new markets you are targeting?
Work with local partners. Working with affiliates, partners, distributors, licensees or agents can help you get established in a new market. Close consultation with business partners on the ground will ensure that your marketing materials have local appeal and don't include any mistakes.
Check your prices. Pricing is not just about understanding currency differences - you need to research price levels in each new territory. Your overheads may also be higher so ensure that your prices take into account the cost of freight and transport, packaging and agent's commission.
Adjust your media mix. The marketing channels you use will vary in each territory. In some countries, you may rely mostly on social media or online advertising. In other places, it could be local newspapers, outdoor advertising or radio.
Learn local customs. When it comes to customer service, what works in one country may not work in another due to cultural differences, language and health and safety regulations. Levels of formality, business etiquette, the way you address them - all these are issues that could make or break your expansion plans.
Get the timing right. Timing is everything. In some places, what you sell may be ahead of its time, in others it could be seen as outdated. Is demand for your type of product already peaking? Or is it just starting to grow?
Exhibit overseas. Taking a stand at trade shows abroad is a good way of dipping your toe in the water, meeting contacts and making your first sales in a new market. It's also a chance to see what your competitors are doing.