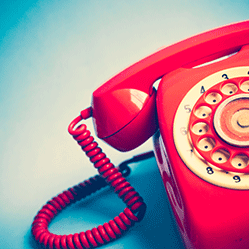 Every business needs a phone number for prospects and customers to contact them on. But having the right number can help make the phone ring, whilst the wrong number can put people off and drive them into the arms of your competitors.
Let's take a look at the common number types available and their pros and cons:
01 and 02 numbers
These regional geographic numbers are a good choice if you tend to do business locally. They are widely recognised and people are happy to call them. Sometimes customers want to do business with a local supplier, so they can be an advantage if that's you. If you're based out of the area it could be worth adding other regional number codes to your portfolio and divert calls to your head office.
Verdict: generally a good choice
0800 numbers
These freephone numbers are widely recognised and can boost response when used in adverts. However, whilst calls from landlines are free, calls from mobiles can cost up to 50p/min, which irritates a lot of people. With the rise of mobile phone use, you may be harming your response by using them.
Verdict: proceed with caution, consider alternatives
0844, 0845 (local rate), 0870, 0871, 0872 (national rate)
Calls to these numbers are charged at fixed rates from landlines but are more expensive from mobiles. They are useful for customer service lines but should not be used as the main contact number as a lot of people resent them.
Verdict: customer service lines only, and even then proceed with caution
070 personal numbers
These numbers are free for the owner and can divert calls to a landline or mobile. However, they are expensive for callers so should be avoided unless you want to annoy your customers and drive them away.
Verdict: avoid
090 premium rate numbers
These are revenue-generating numbers. They can be useful when you provide a service (such as tech support) and want to charge people for your time and limit the number of unimportant calls. They are not suitable for marketing.
Verdict: do not use for marketing
0333 and 0300 numbers
Not yet widely recognised, 03 numbers are the non-geographic equivalent of 01 and 02 numbers. Calls are charged at regional rate, even from a mobile. They are also covered in any inclusive calls package, making them an attractive proposition. They are getting more popular as awareness grows, especially with mobile users put off by high call charges to 0800 and other non-geographic numbers.
Verdict: an excellent choice, but publicise low rates to maximise calls
Unless there's a good reason to choose otherwise, our advice is to select an 01, 02 or 03 number to make it attractive for customers to call you. Paying a little extra for a memorable number is usually worth it, due to the increased number of calls they generate.
Matthew Guise is writing on behalf of Callagenix.