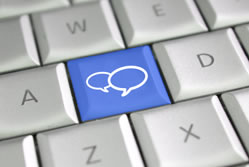 When you run your own small business, it can be tempting to do everything yourself - including social networking. But your employees will already be using social media sites, and could be well-placed to help. Kate Horstead finds out how to get staff using social media to your benefit
Your employees may already have many of the skills you need to use social networking effectively. However, you need to provide them with the right support and direction to ensure their time is used wisely and your online reputation is not put at risk.
Assess staff social media skills
Start by finding out what existing social media skills your staff have. "Employees may already have a useful network of contacts and be familiar with particular sites," points out internet marketing expert Andrew Rayner. "However, allowing them to mix their personal and business profiles inappropriately could be damaging to your brand.
"Ask staff to set up new profiles or nominate a social media champion from your existing staff to set up and manage a business profile," he adds.
Rayner believes that employees need to be given clear objectives - such as monitoring customer feedback - but he says businesses should avoid unnecessarily restricting them with a formal social media policy.
"Staff should be able to use their experience of social media to define your firm's style and approach, as personality is important in social networking," stresses Rayner. "But having objectives will enable staff to identify relevant contacts and give out the right information."
Get staff using social media effectively
Not all employees will have expertise in social networking - in which case you may want to provide basic training. But bear in mind a day's external workshop on using social media typically costs between £250 and £500 per person.
"Employers should understand the skills their staff already possess, and guide them towards engaging in a style that matches their business image," advises Rayner.
Review staff social media use
It is essential that any time that employees spend using social media at work has value for your business. "Depending on your objective, you should regularly review the speed of the firm's response to customers, or use analytics to monitor how many people click through to your website," advises Rayner.
And social media can be used for a variety of business tasks, he adds. "A lot of small firms use social media just to network and get referrals. However, they could also use it to monitor their brand, maximise website visits, generate sales or set themselves up as experts in a particular industry."
"Even if it isn't effective for staff to spend much time on social media, they should have a presence there so they can monitor risks to your firm's reputation or take advantage of any PR opportunities," he concludes.