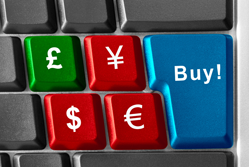 If you trade online, your ecommerce website can be seen anywhere in the world. And that means there's a good chance of picking up online sales from overseas. Emma Jones, the founder of home business website Enterprise Nation and author of Spare Room Start Up, offers a short guide to setting up as international online trader
Sure, companies started and run from home often rely on local customers. But they're also just as likely to trade globally.
You can find many new customers if you look beyond the UK's borders. To get started, you need to get three fundamentals right.
1. Your ecommerce platform
To sell to the world, you have to be seen by the world.
You can achieve this through your own ecommerce website, but it may be easier to broaden your reach by selling through an online marketplace. Your options include eBay, Amazon and Etsy, as well as online trading spaces such as Upwork and PeoplePerHour.com.
Many ecommerce systems allow you to sell products both via your own website, and via other marketplaces.
2. Payment method
Payment services such as PayPal and Worldpay allow you to easily take payment online without having to make a big investment in payment technologies.
With PayPal, you simply pay a transaction fee each time one of your customers makes payment. With Worldpay, there is a range of options - typically you pay a monthly fee, plus a fee on each individual transaction.
Your chosen ecommerce system is likely to offer a range of payment services. When choosing how to accept payment, look at how these services handle international transactions.
For instance, do you have to pay any additional fees to the payment provider? And how are their exchange rates set?
3. Post and packaging
Arranging delivery for international customers can be a bit of a headache, especially if your products are fragile or bulky.
It's vital you calculate shipping costs accurately in order to avoid making a loss on overseas orders. Companies like FedEx, UPS and Parcelforce can advise on your options for shipping items abroad. Don't forget to factor in the cost and weight of packing materials, too.
You will have to fill in a customs form for each item you send. However, you shouldn't have to worry about import taxes or duties; these are usually collected from the recipient. (You may, however, wish to warn customers that their orders may be subject to import duties.)
Taking these steps will help your ecommerce website to attract online sales from around the world.
Ecommerce content edited by Chloe Thomas of eCommerce MasterPlan.