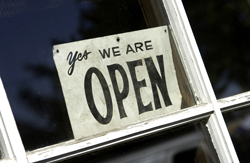 When a competitor sets up on your doorstop it may be hard to see the silver lining, but things might not be as bleak as they first seem. There are ways to safeguard your business - and you could even benefit from this unexpected challenge
If you have been trading for some time, you have some key advantages, including reputation, established market position and loyal customer base. Your competitor is yet to find their feet. If you have staff, their knowledge of your business and its customers is hugely beneficial.
It can be difficult, but weigh up what impact the competitor will have on your sales. Be realistic. Find out what services or products they offer, and at what quality and price. How good is their customer service?
Ascertain what your competitor sees as their key strengths and selling points. These are key areas on which you need to compete. Look at their website and any advertising or marketing materials for clues. If they have a shop, undertake a secret fact-finding mission. You might even be able to pick up some tips.
Check out their blog and social media profiles for comments to get a feel for the community they have built and their brand reputation.
Looking after your existing customers is crucial. They will be your competitor's target market. Build upon your relationships with them. If possible, be more personable, attentive and flexible. Try to provide better value for money and improved customer service. Consider offering low-cost extras if feasible, for example improved credit terms or discounts. Satisfied customers tend to be loyal customers (they will be more likely to tell others about you, too).
Being faced with a new competitor should force you to assess your business. Do a SWOT analysis. Obviously, you need to consolidate and add to your strengths and stay focused on your opportunities. Try to improve things you aren't so good at and check whether your strategy for dealing with threats is still adequate.
It's not just about looking after existing customers. There are other simple things you should do to win new ones. Look at how you market your business. Perhaps a complete rethink is required. Maybe it's simply time for you to do a leaflet drop or place a new advertisement, possibly on the back of a new deal or product. Don't neglect to take advantage of all free opportunities to publicise your business.
For most businesses, appearance is vital. It affects customer perception. Your competitor is likely to be operating from freshly decorated or refitted premises. Now might be a good time to do a little spring cleaning or revamp your workplace with a fresh lick of paint and new furniture.
Getting the support of your employees is crucial. Let them know about your concerns and get them to play a part in improving your business. Ask for their ideas.
Perhaps you have nothing to fear. Maybe there will be enough room in the market for both businesses. However, a happy ending might not be certain, particularly if the competitor is part of a larger organisation or is considerably superior in other ways. If you think it likely that you will be hit hard, now is the time to start thinking about diversifying, moving location or selling up altogether.