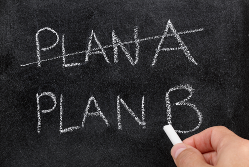 Ascentor is a specialist information risk management consultancy that helps government organisations and businesses protect their data. Managing director David James explains how he responded to changing demand in the marketplace
Established in 2004, Ascentor advises government departments and businesses on information security. "We're there to help people protect their valuable information," says managing director David James.
Until the 2008 downturn, most of Ascentor's contracts came from government and Ministry of Defence clients - organisations that well understand the need for information security. But cuts in the public sector prompted Ascentor to shift focus and target private businesses as well. The challenge, says James, has been to convince firms that they needed to invest time and money in protecting their information.
"Everyone wants to reduce their overheads and IT is no different," says David. "Our approach is to help businesses understand the risks to their information and recommend the most cost effective way of providing the requisite protection. It's not all about technology and firewalls. You also have to look at printed information, even USB sticks.
"It's about identifying what information is valuable, how it is currently protected, what are the risks to that valuable information and whether that protection is adequate," he says. "It's no different to any other business risk, but information risk management is a discipline in its own right."
Marketing to the private sector
Shifting focus to the private sector has been an obvious step forward. But David found it requires a very different strategy. In a highly competitive market, Ascentor has had to take a fresh approach. It's not enough to just say "you need our services", says James. "Previously, we got our government contracts through networking. We didn't have our own salesforce. So, initially, when we started targeting private firms, we didn't do as well as we had hoped."
The answer was to educate prospects and for Ascentor to make a name for themselves as the go-to people for information risk management.
Ascentor invested in a marketing strategy that would take the company forward. Using marketing consultants Bryony Thomas and Sonja Jefferson enabled Ascentor to take a more active and disciplined approach to its positioning. A new website, blog and email newsletter  helped to position Ascentor as the experts in information risk management protection for businesses.
Social media is also a crucial part of the strategy. "We have rebranded and established ourselves as information risk management experts on social media sites," explains David.
It's a marketing strategy that could pay off for any firm that has previously been reliant on one customer base and that needs to introduce themselves to another. It's all about setting out your stall, establishing yourself as an expert in your field and building a solid presence in your market.