Social media marketing is no longer an optional extra. If you're a small business, you're probably going full throttle on your social media efforts to engage with potential customers. After all, 90% of people with internet access are on social media. Social media comes with its perks and quirks, though.
Granted, you get to directly interact with your target audience. But did you know that every social media post needs an image with a unique aspect ratio? If you're a small business owner with a one-person marketing team, getting your images resized can eat away a big chunk of your time.
For instance, if you're sharing the same post on two different social media platforms, you'll still need to change the image or video's aspect ratio. This could mean spending your lunch break looking up the appropriate image sizes because you need the rest of the time for actual work.
What is the social media aspect ratio?
The aspect ratio is the ratio between the length and the width of an image or video. It's as simple as that. If your video is 100px wide and 50x long, your aspect ratio is just 10:5 (or 2:1).
Aspect ratio is different from its close cousin, resolution. For instance, 100px x 50px is the resolution, while 2:1 is the aspect ratio. If the resolution was 200px x 100px, the aspect ratio for this image is still 2:1.
The difference between aspect ratio and pixel size is important because it's typically the aspect ratio that spells trouble for social media images, not pixel size.
Now, before talking about which tools can help you speed up the process of adjusting the aspect ratio, you'll need a cheat sheet to look up the recommended aspect ratio for any social media platform. So, bookmark an image size guideline page before you get started. Just make sure you bookmark one that stays up to date!
Okay, onto the tools.
Five best tools for editing aspect ratio for social media
There are some tools you can use to make sure that the social media platform you are using doesn't cut off part of your image or stretch it to fit. Many of them have built-in aspect ratio measurements for most popular social media platforms avoiding the need to waste time manually adjusting the aspect ratio.
1. Canva
Canva is a fantastic entry-level tool for creating social media graphics. There are many things to like about Canva. It's beginner-friendly, has ready-to-go image sizes for all social media platforms, and has a drag-and-drop UI.
It's a comprehensive tool that you can use as a standalone graphics tool. You can start with a clean slate and use a template or edit a graphic you already have. If you have neither, you can use Canva's stock photo library to search for something you can work with.
When you go to Canva's homepage, you'll see a template for almost every popular social media site. From Instagram stories to Pinterest pins, and WhatsApp status to TikTok videos, it's got everything.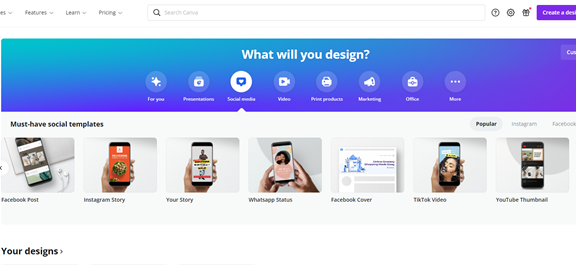 You can quickly pick the platform you're creating an image for, scale it, and voilà - your graphic is ready. Oh, and you can do all of this for free! The paid version comes with all the bells and whistles, but most people can get by with the free version.
2. Pablo by Buffer
If you're a minimalist, you'll dig Pablo. It's a clean, no-fuss editor that can create ready-to-post images within seconds. The simplicity comes at the expense of some of the more robust features that Canva offers, but it will work perfectly if you like to keep things simple and get the job done quickly.
Imagine this. You open the website, and you see a single page that houses all editing options. No sidebars, menus, or other hoops you'll need to jump through. Got a good feeling about this? Then you might just love Pablo.
Of course, Pablo has ready-to-use templates to create quick social media images. At the time of writing, Pablo has templates for Pinterest, Instagram, Facebook, and Twitter. Choose the social media platform from the upper-right corner and you're all set to create a dazzling graphic.
Pablo was created by the team at Buffer, a social media scheduling app, which means Pablo also has an option to schedule your social media posts from within the interface.
Overall, though, the sharing options are limited (to Buffer and a few social media platforms). Canva reigns supreme in this aspect with a ton of sharing and collaboration options.
3. Snappa
Snappa packs in a whole line-up of templates you'll need for your social media, blogs, and other images. It even has a template for Zoom backgrounds, email headers, and Twitch panels. Snappa also lets you access every feature… for free.
But (there's always a but), you can only download up to three images a month. This shouldn't be a problem if you only post on social media platforms occasionally or just need a tool for a one-off job, like creating a LinkedIn banner.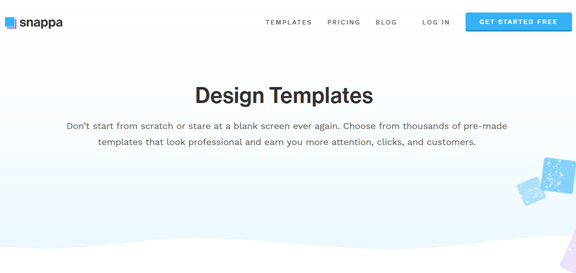 Snappa also feels far less salesy. When you use Canva, you know that they have a paid plan that will give you access to more features. Fortunately, Snappa doesn't bombard you with notifications about the paid plan as you use the tool.
If you want a paid tool, though, you might want to stick with Canva; it's the most popular tool for a reason.
4. Pixlr
Pixlr is a popular tool that comes close to Canva in terms of features. You can create graphics from scratch or edit graphics you already have for free. Just like Canva, Pixlr also has templates for creating specific images for each social media platform's aspect ratio prescription.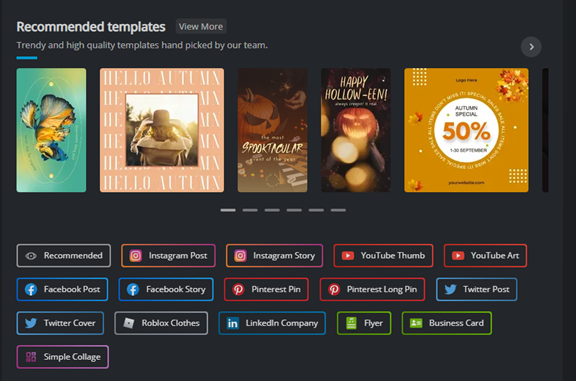 However, Pixlr does offer some additional benefits for someone who has never used an online tool for resizing an image. Pixlr has two editing interfaces. Pixlr X is a simple editing tool ideal for beginners with just the bare minimum of editing options.
You can still add text and filters with Pixlr X, but if you want to add gradients or disperse a part of the image, you'll need to switch to Pixlr E. This interface comes loaded with pretty much any editing feature you'd want to use for a social media image.
The interface is similar to Photoshop's, with a left sidebar housing the edit options and a top ribbon. If you opt for the paid version, you can also use other cool features on Pixlr like AI CutOut. Both free interfaces (X and E) allow cropping, though, so you can always adjust the image's aspect ratio using either of them.
5. Adobe Photoshop
Adobe Photoshop is one of the most extensive photo editing tools in the market. From simple cropping to AI-powered tools, it's got everything. It costs more than the other tools here, but if you want more options when editing photos, Photoshop should be your go-to.
The challenge, though, is Photoshop requires some getting used to. If you're interacting with Photoshop's interface for the first time, you'll probably spend a few minutes looking at all the options, and there are tons of them!
If you simply want to create an image using a template for a particular social media platform, Photoshop is overkill. In fact, Photoshop doesn't come pre-loaded with an image aspect ratio for the different social media platforms.
You can still create custom templates by manually inserting the prescribed aspect ratios, of course. Once you've added these templates, you'll be able to use them again in the future.
In most cases, you won't need Photoshop unless you want to do some really heavy-duty editing. However, if you happen to have Photoshop installed on your system, you can use it to resize images for social media platforms.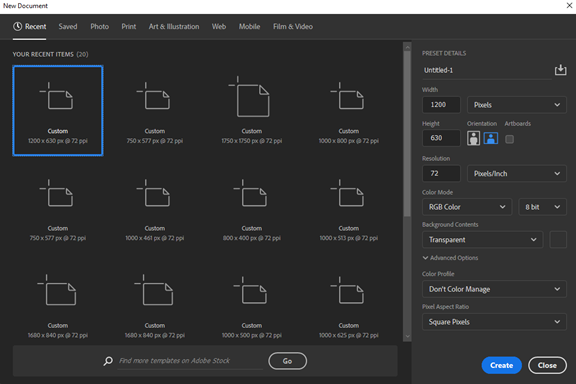 Aspect ratios aren't difficult
Resizing images isn't difficult once you find a great tool that you're familiar with. In most cases, you just need to select an appropriate template and create your graphic. If you want to resize an existing image, you can just use the image size guideline page and manually input the width and height while cropping the image.
The thing is, the prescribed aspect ratios can change. Using a credible tool like Canva ensures that those changes are reflected in subsequent templates you use for creating social media graphics. Otherwise, you could end up with a weird-looking image on your social media profile.
While advanced tools like Photoshop can help you resize an image, there are two caveats. First, you will need to invest some time to learn how to use Photoshop.  Second, Photoshop doesn't update the aspect ratios automatically, so you'll need to keep tabs on any future changes in prescribed aspect ratios.
As a small business, your best bet is to use a popular tool like Canva. It provides templates, updates them as and when they're changed, and allows you to create graphics in a jiffy! That's exactly what you need in a graphic creation tool - simplicity and efficiency.
Copyright 2021. Article made possible by Arjun Ruparelia for SKALE.