Your website never gets a second chance to make a great first impression. So, are you making the right one? These top ten web design tips will propel your business into 2021 and beyond:
1. Lightning-fast load times
Ok, so we know that having a fast site is essential. But did you know that just a one-second delay in page loading time reduces page views, decreases customer satisfaction, and reduces conversions. Speed is vital if you want to rank well on Google too. In short, if you care about your bottom line, make sure your site loads quickly.
2. Responsive design
For those who need a reminder, responsive design means the website is flexible: it automatically scales its content and elements according to the size of the screen it's being viewed on. It's visually (and functionally) optimised if you like. No more designing a dedicated mobile website as well as a desktop site, you just design one responsive site. 
More importantly, Google made the switch to mobile-first indexing for the entire web back in September 2020. This means it's more important than ever to have a site that's designed responsively. But responsive design isn't the end goal because it needs to be responsive in a user-friendly way. Start with Google's simple Mobile-Friendly Test, and explore user-friendliness using this tool - which is an invaluable resource for non-developers. 
3. Mixing graphics with photography
This creative technique is big on personality and gives you lots of creative opportunities. It looks fresh, modern and can add depth and intrigue to your website. It can be a great way to reinforce your brand through colours, shapes and graphics that align with your brand personality. Think high-quality photographs and bold graphics for maximum creative flair. 
4. Go dark 
Dark mode is both modern and super practical because it reduces eye strain. It is exactly what it says: the design of the website is dark instead of the traditional white. Tech giants rolled out dark mode several years ago, but the trend is still growing among small and medium-sized businesses.
Striking the right balance of colour and light takes skill. Effective dark mode design encompasses so much more than just a toggle option. Key to successful dark websites include considering how the colour contrast affects readability and where brightness draws the eye.
5. Skimmable content
We've all done it:  browse a longform article by only reading the heading and sub-headings, and we've all abandoned articles that look like a huge block of small text. When it comes to designing your website, keep in mind that readers browse in an 'F-shaped' pattern. According to Nielsen they'll skim the page, read headlines and opening sentences and summarising paragraphs. The best website designs treat content and visuals as linked assets, not two separate entities. Create Skimmable content in big, bold, can't-miss-it text.
6. Engaging microcopy
Design and content go hand in hand. Microcopy covers all of the little bits of writing that pad out the user's experience and respond to their actions. Are your error messages, notifications, form questions, step-by-step cues, and short instructions working for you? Are they in your brand's tone of voice? 
Microcopy adds helpful context, but it's also an under-utilised tool for making a meaningful connection. More and more web designers have discovered how conversational, personal, and friendly microcopy can improve outcomes. If it fits the brand style, humour and wit are always welcome!
7. Triggered microinteractions
Microinteractions when done well, support your users' journey by engaging them at the right moments so that you maximise interaction at key touchpoints. Bring the user right into the action with small animations that highlight, reinforce, and reward their movements. These function like little nudges to your user and should be well-designed, smooth, and non-invasive. Draw the user's eye to the most important site elements and actions, like adding an item to cart, hovering over a CTA, or scrolling through your brand story.
8. Looping video backgrounds 
Looping video backgrounds are short pieces of video footage that repeat seamlessly. Use them in place of a static image, to add interest and movement that both trigger the viewer's attention and make your site look slicker. When done well they have been proven to aid dwell time and boost conversion. They work best when they're used to set a specific tone, create a certain vibe, or provoke an emotional response. Story-driven background videos add a dynamic element to your design and work well if you're selling a product or service because you can show people experiencing your product. 
9. Asymmetric layouts
We're all familiar with websites based on a grid layout. This has been a practical and popular design approach for years. But asymmetry is a trend that is re-writing the layout rules. Great asymmetric design needs to balance visual appeal with maximum usability. The opportunities for creativity are endless.
10. Floating effects and layers 
Influences from scrapbooks, shadow boxes, and magazine layouts are taking over the digital space. This trend is a winner for small business website design because it radiates creativity and friendliness with a personal touch. Get creative with overlapping photos, layered text, floating typography outlines, and soft 3D shadows.
Feeling inspired? 
Discover quality web designers on Fiverr who can put these trends into action. We're the go-to destination for businesses when they need fast, reliable, and high quality freelance talent. Search more than 400 subcategories to find gigs that fit your style, budget, and timeline. Then, hire top-quality talent with a track record of success and vetted reviews.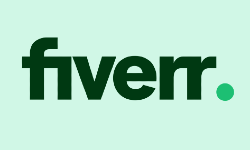 Find a huge variety of design services from brand identity to marketing and advertising design. Whatever your branding and design wishes Fiverr has the talent to bring it to life! Use our 10% discount code DONUTS10 to save on your next job with Fiverr.
Copyright 2020. Advertorial made possible by Fiverr.