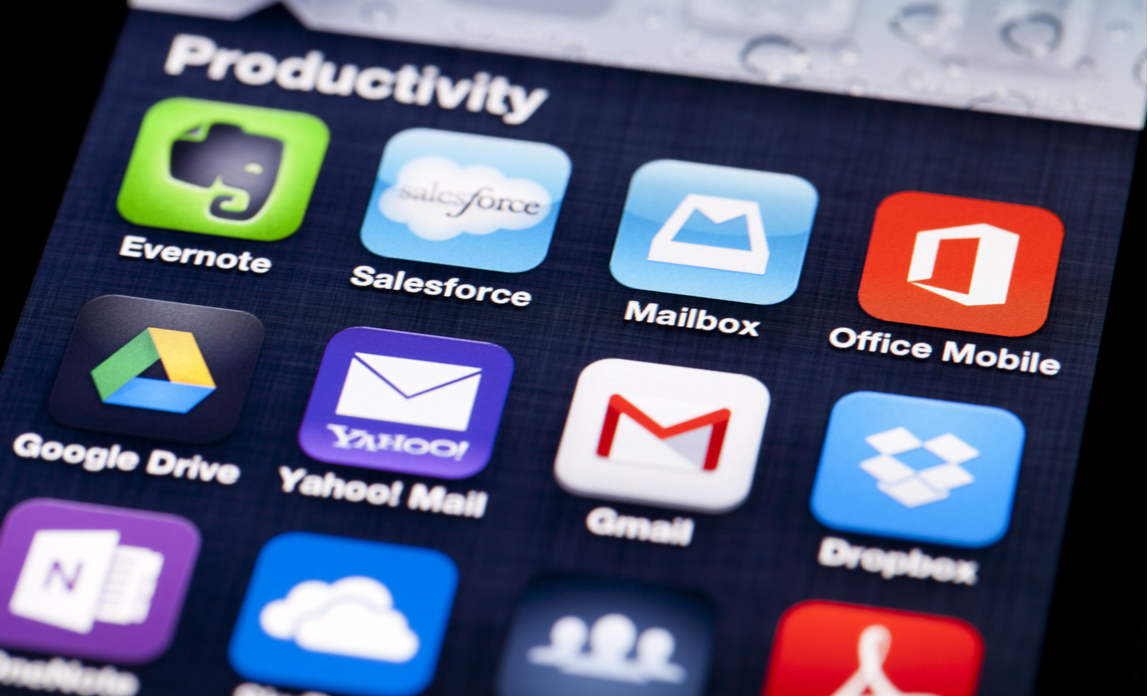 Here's a question that every young entrepreneur should be asking themselves:
Are you running your business.... Or is your business running you?
While we may think that we're in control, and that we're successfully holding everything together, the truth of the matter remains: building a new business isn't easy. It's reported that nearly half of all business owners feel overwhelmed, and they don't get to enjoy any 'me time' — something that's essential for creating a healthy and sustainable work/life balance and protecting your own wellbeing.
It's ironic that one of the top priorities for many young entrepreneurs is building a thriving start up culture that motivates, inspires, and cares for employees, yet they're overlooking their own needs.
Isn't it time young entrepreneurs started to help themselves?
If you're feeling like your business is running you ragged, don't worry! Here are five great productivity apps (for iOS and Android) that can help you to stay organised, schedule your tasks, save money, and get your business life back under control.
Feeling overwhelmed, but not entirely sure why? Toggl can help. Before you start looking at ways to enhance your productivity, it's a good idea to try to understand exactly where your problems lie. That's where Toggl comes in.
This popular time tracking app makes it easy to record how long you spend on each client, on each project, or on each task and, more importantly, it offers a whole host of different ways to analyse this data, helping you to identify exactly what it is that's been holding you back.
Cost: Free for up to 5 team members (paid plans start at $9 per user per month)
One pound saved is a pound earned; the more you save, the more you earn. An entrepreneur knows this well, especially if they just started their business. PlusVoucherCode can help you with this. Before buying anything, you can check if there is any discount code to save on the store you are purchasing through PlusVoucherCode discount codes. Once you have entered the discount code at checkout you will immediately receive a discount.
Cost: Free
If part of your productivity and organisational problems revolve around communication, Taskade is probably the best app you can find. It's designed to help people get together easily, no matter where they are, with chat and comment functionality, file sharing, and video conferencing. We'd recommend checking out broadband deals first if you're working with asymmetric speeds; with file sharing and video conferencing, you'll need decent upload speeds to really see the benefit of the app.
Cost: Free (or $7 per month for unlimited storage and file uploads)
Todoist is a classic 'to do' list with a modern twist: It integrates all of your mind's distinct ideas into one easy-to-use platform. Todoist allows you to categorise your plans in any way you want, with work-based to do lists, personal to do lists, and anything else, keeping all your tasks in one place. Tasks can be added quickly, built-in reminders help you to meet important deadlines, vital tasks can be prioritised, and delegation tools allow you to unload some of the stress. Ultimately, it's a way to encourage good habits.
Cost: Free (premium and business plans cost up to £4 per user per month)
If you're venturing into the world of social media marketing, then you're probably already using Hootsuite. But are you using the Hootsuite app? This allows you to manage your Hootsuite account from wherever, whenever, bringing all the benefits of the platform to your mobile device. Compatible with networks such as Facebook, Twitter, LinkedIn, YouTube, and Instagram, the app lets you publish and share your posts across all platforms instantaneously. It also includes a handy auto schedule feature.
Cost: Free, with in app purchases
Do you find that a great, productive run often gets broken by a million thoughts racing round your head? Distractions like this can wreak havoc on productivity, so it's important to find a way to deal with these distractions before they become a problem — without losing those precious ideas that have popped up. The Rev Voice Recorder is such a solution. No matter what you're in the middle of, this app allows you to record your ideas at the touch of a button, and also offers ways to organise and share these thoughts through email or through file sharing apps.
Cost: Free (plus $1 per minute to use the voice-to-text transcription service)
Being a young entrepreneur tasked with growing and developing a small business is hard. But many are making this more challenging than it really needs to be. Productivity apps are here to help, making it easier to organise your working week, take control, and really put yourself back in the driving seat.
Copyright 2019. Featured post made possible by Plus Voucher Code