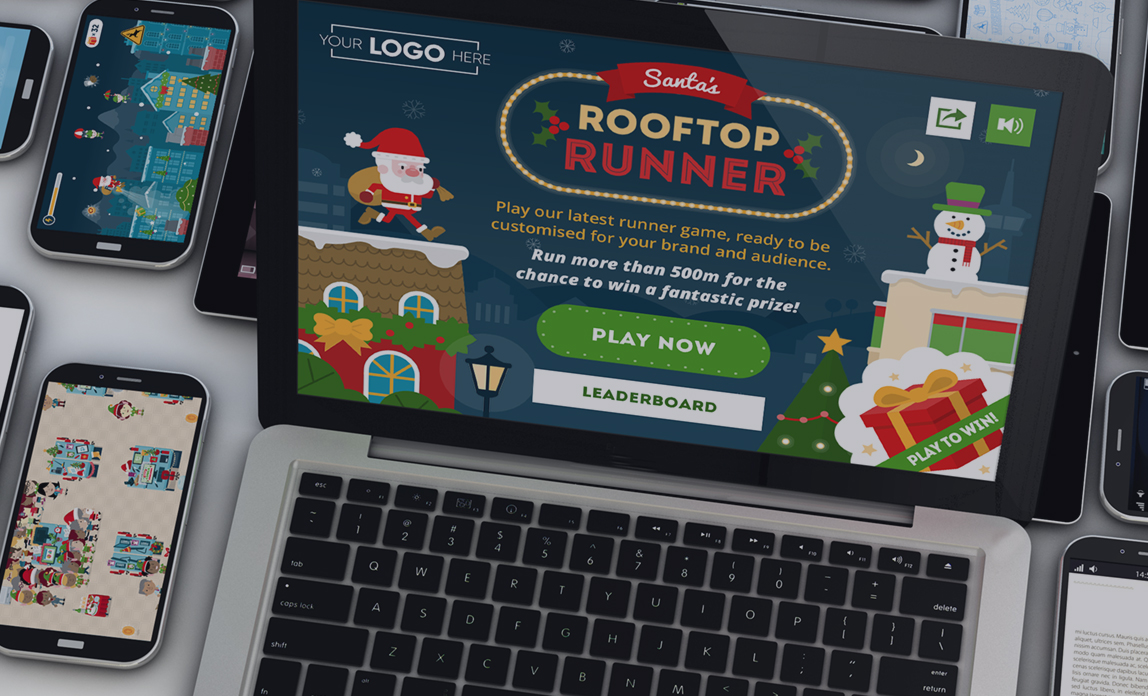 "If you always do what you've always done, you'll always get what you've always got."
We've all heard this quote, and we all nod and agree - but it's hard, right? Doing something new can seem risky, we're all busy, and it's much easier to carry on with the status quo.
However, if we don't push boundaries once in a while, we don't learn and we don't grow. This is true in all walks of life, and can be applied to marketing too.
We know that marketing is a competition for people's attention. As consumers, we live in a world where we have more information than we know what to do with. But with a click of a button we can stop seeing promoted posts, fast-forward through ads and scroll past well-considered content, before brands can explain who they are or what they do.
So, as business owners and marketing professionals, we need to do something different. We need to find that scroll-stopping moment.
Festive feels
Take Christmas for example; since we're steamrolling our way into the festive season, we'll soon be seeing Christmas ads from every brand and retailer, trying to compete for share of mind and emotional connections with consumers.
For those of us without marketing budgets that run into the millions, we might send out Christmas cards to customers and staff. We might even send out chocolates or wine, or stretch to a festive hamper for our big clients. But even then, we're still in direct competition with other businesses doing exactly the same thing.
What can we do to stand out in the maelstrom of Christmas newsletters and gifts?
Brands need to entertain
Discerning consumers of media certainly don't want to be 'sold to'. If you want to stand a chance of engaging with consumers in any meaningful way this Christmas, it's time to entertain.
One medium which has been gaining momentum in recent years is gaming. Chances are that a large majority of your audience are among the 32 million people in the UK who now play games on their mobiles, tablets, consoles or desktops. That's half the population.
Games aren't just for a young male audience, either. 48% of those are women, half are over 40, and a quarter are over 56 years old.
Using games in marketing is not a new thing. Coca-Cola were among the first to distribute games on floppy discs back in the 1980s. Online Flash games became popular as the internet took off in the late '90s, and the possibilities have wildly increased since the rise of mobile devices and social media.
Advances in technology have made it a marketing channel that's affordable, accessible, measurable and highly engaging.
Is a branded game right for my business?
Here are five reasons to do something different and try a branded game this Christmas.
1. Measurable engagement
Average engagement figures can be between 10 and 40 minutes per player when it comes to branded games, sometimes more. That's quite compelling, considering there's no way of knowing if your usual corporate Christmas card has fallen down the back of the filing cabinet, never to be seen again!
2. Drive digital footfall
A good branded game will work hard to promote your messages without getting in the way of gameplay. Include links to special offers, promotions and competitions that will take the player to your website, and you can generate sales too.
Play to win and power up your marketing
Competition ends soon!
Games are a great way to engage and entertain your audience. Piknik's range of games can be branded with your message and logo. 
Play Santa's Jingle Jetpack and submit your score by 24 November for a chance to WIN a customised Piknik game worth £850.
3. Build online communities
Games are a great way of building a community. With leaderboards and social sharing, you can help your audience spread the word and have positive conversations with them on social media.
4. Capture quality marketing leads
Games can also be used as a way of capturing data through a leaderboard-based competition. With new GDPR requirements in place, brands need to offer relevant and engaging content to ensure compliant, permission-based opt-ins to marketing databases.
If you can make that process fun and positive, you're more likely to gain quality data and leads.
5. Stand out from the crowd
Going back to that quote - trying something different and fun like a branded game will set you apart from your competition.
You will entertain, engage and capture your audience's attention - and you might even find that elusive scroll-stopping moment this Christmas.
Copyright 2018. Sponsored post Cari Kirby, Marketing Manager at Piknik