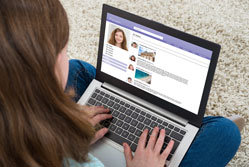 The stakes have never been higher when it comes to customer service; 46% of shoppers in the UK under 25 use social media to comment on their customer experience.
Amazon's Jeff Bezos describes a brand as "what other people say about you when you're not in the room". But today's customers are less discreet - in fact they are quite happy to shout about you on social media if you get it wrong. So how can you use social media to improve the customer service you provide?
The social approach to service
According to a study by American Express, companies that respond to and resolve complaints via social media see 21% more sales than companies that handle complaints on the telephone or in written form.
Social media savvy consumers have higher expectations, but they'll spend more when they get good service and quickly ditch a company when they don't. So when you respond well, in real time, customers are impressed and become more loyal.
As a result, those taking a social approach to customer service are raising the stakes significantly in their favour. You'll now even see big brands signing off tweets with the first name of the person that wrote the tweet to add a personal face to the communications.
Use size to your advantage
Digital is a great leveller. With so much choice for consumers, there's no room for average, mediocre or just okay. That means a smaller business offering the personal touch can really stand out.
Businesses built on products that truly deliver - with customer care that is personal and responsive - are creating genuine competitive advantage despite their limited budgets.
This is how King of Shaves - as a start-up with little budget - became a strong challenger brand in a market dominated by billion-dollar rival, Gillette. Up against their £40m UK advertising budget they used an incredibly personal service on social media to create genuinely happy customers who then went on to do their marketing for them.
Listen carefully
Social is more than just a way to get your message out there; it's also fantastic for listening to your audience, responding to their needs and tracking your competition.
And it is great for getting feedback from your current customers and new prospects. Feedback can be given on your profile or it can be what people are saying about you in the feeds. So listen up; both positive and negative feedback will help make your business better and will make you more interactive on social.
Be authentic and transparent
At the heart of social customer service is transparency and honesty, but this isn't always easy when things go wrong. It is at this point that many brands try to stop anything negative going online but this can quickly backfire. Instead, look at it as an opportunity to be great - recognising that by responding to a criticism in a positive way you will often impress that customer, as well as all the others listening in on the conversation.
We all have those heart-in-the-mouth moments. Launching our social sharing tool Openr we've certainly had a few - including our entire domain not being available and users having to take to Twitter to tell us about the issues.
The trick is to treat customers as you would want to be treated yourself. Always respond to comments and when things do go wrong, make sorry the first word. Think about it from their perspective - they don't care if the issue wasn't actually your fault. It isn't their fault either, so sorry is the first step to making it up to them.
It seems strange that social media - a technology - is making businesses more human, honest and transparent, but it is undoubtedly raising the bar for customer service. Those that embrace it are standing out for all the right reasons.
Copyright © 2015 Christina, CMO and co-founder of social sharing tool Openr and founder of the The Nurture Network.
Related articles and resources
You may find the following articles and resources useful: