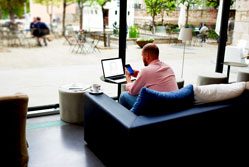 Running a small business is hard work. But just because you have a small team, and you won't be buying a TV spot during this year's Champions League Final, doesn't mean that you shouldn't be investing in email marketing.
A common misperception is that email marketing is only appropriate for online businesses. This couldn't be further from the truth. Online-only businesses are a natural fit for email marketing, of course, but the expectation these days is for just about every business - from the restaurant around the corner to your local community organisation - to have an online presence.
Email marketing is affordable
No matter if your business exists primarily online or in the "real world", email marketing is exactly what you should be thinking about, for the simple reason that it's proven to be one of the most cost-effective digital marketing tools across all sectors.
Email marketing deepens your connection to customers
Customers who've already purchased - either through your website or at your store - are the most important target group for your email marketing efforts. The goal should be to turn a one-time purchaser into a repeat customer. Email marketing empowers you to do this in a number of ways.
The most obvious step is to make targeted product recommendations based on purchase history. In addition to product recommendations, email marketing allows you to deliver offers on specific products that, based on your customer's purchase history, are most likely to lead to another sale. And finally, you can send personalised birthday and holiday greetings. With email marketing software, all of these messages can be automated, saving you time and doing the marketing work for you.
Newsletters engage prospects
By visiting your website and registering for your newsletter, people have already let you know that they're interested in what you have to offer. Take advantage of this opportunity by sending an automatic Welcome newsletter that gives a bit of information about yourself, and lets people know where to find your best products and/or content.
Powerful analytics at your fingertips
Email marketing software offers powerful analytical tools that enable you to learn about your customers while you're communicating with them. Open rates tell you how interested people are in your content, and by learning what types of devices they're opening your emails with - desktop vs mobile, web email vs Outlook - you can tell whether they're opening your emails at work or on the go.
Click maps tell you exactly how many people clicked on the content within your email, letting you see which content was most interesting. And conversion tracking lets you objectively measure the success of your campaign.
Email marketing offers solutions for every business: big or small, online store or neighbourhood shop. Drive sales, increase foot traffic and learn more about your customers.
Sponsored post: copyright © 2015 Ian Roderick, communications manager, Newsletter2Go.