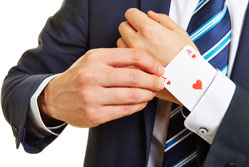 There's a new strategy in town. It's turning the SEO tables, causing established giants to fall by the wayside as smaller competitors make their mark in search rankings.
It's powerful; it promises to deliver sought-after SEO treasures, top spots on SERPs (Search Engine Results Pages), without any technical wizardry or dark magic required at all. How can this be done? How can such small rivals take on these seemingly impassable contenders - and win?
The truth is that the strategy behind these impressive feats does not involve anything mysterious or untoward. There are no short cuts; nothing clinging to a grey area, trying to escape the all-seeing eye of Google. The winning strategy is completely above board.
The truth about SEO
The great secret behind this success is actually disappointingly straight forward; it's about doing what you say you will and doing it well. The problem with so much SEO advice is that it simply over-complicates a field that is already littered with jargon.
Too many brands enter into some kind of bizarre battle with Google, believing there is no other way to compete than to use underhand tactics, trying to navigate the SERPs while skirting the threat of penalties.
This is not the way to win. The way to beat larger, more powerful rivals is to take them by surprise; by doing it honestly and transparently. It's about going back to basics.
What is a website for? Is to inform, entertain or persuade your customers into making a sale? If you can create a website that offers interesting, relevant, regularly updated content, it will become worth seeking out and the powers that be - aka search engines - will recognise it as such.
The race to the top of the results page
There is no need for dirty tactics. Sites are currently being compromised in this incessant race to get to the top, brands are receiving hefty penalties, all the while losing business.
This is all entirely unnecessary. The way to make your mark on SERPs is simply to maintain a website which does what it says on the tin and develop good quality, clean links from sources which you trust and build good relationships with.
If brands stopped cutting corners and using SEO "tricks" they would be in for a pleasant surprise. SEO is like anything else; if you do it well, you will be rewarded.
Copyright © 2016 Gary Taylor, digital director of specialist digital and media agency TMWI and co-founder of the rugby website Ruck.