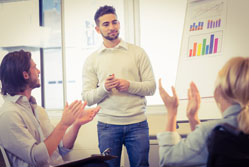 People ask me loads of questions about presentations. So here are 11 FAQs and answers that can help you transform your presentations.
Q1: How do I engage audiences immediately?
By doing something engaging at the start. For example:
Use intriguing words/phrases - "I want to share a secret with you - something that nobody outside this room knows".
Use an emotive adjective - "We have a once-in-a-lifetime opportunity".
Use an emotive verb - "I'm really excited to be speaking to you today. Because…"
Teach them something - "Did you know…?"
Ask a question.
Tell a story.
Q2: How do I keep them engaged?
Keep doing engaging things. Think of all the things audiences like - stories, humour, impressive visuals and so on. And ensure you do at least one of them every one to two minutes.
Q3: What's the most important thing about presentations?
There are two - the beginning and the end. The start must engage - use one of the starts suggested in Q1 above, deliver it with lots of energy, have a good title and ensure Slide One looks impressive.
And the end must contain a Call To Action. If it doesn't, your audience won't act. For example, if your last slide says "thank you", they'll merely say "you're welcome" and then leave. If it says "Next steps", there'll be some.
Q4: What's the best way to structure a presentation?
The answer to Q3 showed how to start and end. But what about everything in between? Well, there are two structures that work well.
Firstly, to build a logical argument, use the 4Ps:
Position - the world currently looks like X.
Problem - and the problem with Position X is…
Possibilities - three solutions to this Problem are…
Propose - I suggest we do option Y because…
Or use this structure to build buy-in to change:
Why it's needed - explain the problems with the current situation.
Future vision - the ideal future we want to get to.
How we'll get there - everyone's actions, to move from the current situation to the desired future.
How we'll overcome our barriers - the things that might get in the way, and how we'll remove them.
Q5: How do I stop people looking at my slides?
One excellent way: don't use them. Or, minimise the words on them, so there's nothing to read. And/or press "B" or "W" to black/white the screen, so they can't see them.
Q6: How do I improve my slides?
The key rule: avoid bullet points. Trust me on this: nobody loves them. There's always a better way to present information. For example, click on the PowerPoint tool SmartArt (in the Insert tab) and you'll see loads of formats - barcharts, flowcharts etc - you can drop your points into. Also, high-quality images work well. Go to Google images, type in your keywords and you'll find hundreds of them.
Q7: How can I make my presentations more interactive?
Ask questions. Obvious, I know. But people rarely think their questions are part of the presentation. Instead, they prepare their slides, and practise their run-through - but they don't script/practise questions. Which means they tend not to ask any. So it isn't interactive.
Also, when thinking of questions, ensure they're thought-provoking - "Which of these five benefits will your customers find most valuable?"; not bland - "Any questions? Anybody? Please? Nobody? OK then..."
Q8: What if I overrun?
Never, ever finish late. Even if the audience seems to love what you're saying, you finishing late makes them late for the next thing in their diary. Trust me on this: they won't ever be grateful to you for this.
Here's a very handy hint: when you need to jump ahead in your slides, simply press the slide number you want to go to and the Return key - you'll jump straight there. The audience won't know you've jumped. Of course, you need to know what the slide numbers are; so, print them out in advance.
Q9: What if the IT doesn't work?
Don't rely on it. Take a paper copy with you, so you have notes to present from.
Q10: How do I remember everything?
Use notes. But put these notes on a hand-held card/piece of paper on your desk, not on the big shiny screen that your audience is looking at. Your notes help only you; the screen helps only them.
Q11: How do I handle my nerves?
Lots of ways, including:
Think in advance of the AFTERs - in other words, why your audience - and you - will be better off AFTER the presentation. Will you have helped them save time, be more productive, make better decisions, have less risk? And how will them getting these AFTERs benefit you?
Practise. A lot...
...especially the start. Know exactly what your first two or three sentences will be. When they come out OK, the rest tends to follow.
Front-load your presentation with your best bits. Saving your best stuff for later isn't as good - they might have switched off if you don't grab them early.
Make it shorter and more interactive. It's very daunting to open your mouth thinking "right, I'm the only one in this room who's speaking for the next 60 minutes". It's much easier when you think "right, we're having an interactive chat for the next 20 minutes".
Copyright © 2015 Andy Bounds. Andy is a communications expert, speaker and the author of The Snowball Effect: Communication Techniques to Make You Unstoppable. You can sign up for his free weekly tips.
Related articles and resources
You may find the following articles and resources useful: