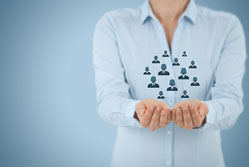 We all know that when applying for jobs the same CV does not work for all the roles you might be applying for. To be successful you have to draw out specific experience and knowledge and tailor it to the job description to show that you meet the employer's needs.
Segmentation is pretty much the same. It's about aligning your products and services with a specific target audience so you appear more relevant to them.
It is the process of splitting customers into different, definable groups, within which customers with similar characteristics have similar needs. You might use segmentation to identify a group that would benefit from an existing product or you might create a new product or service to address the needs of an identified group.
In short, segmentation is good business practice and is about satisfying the customer's requirements. Meeting customer needs better than your rivals gives you competitive advantage.
Identifying target groups
To identify your segments you will need to find out more about your customers and their buying habits. This information will be very different depending whether you are selling to consumers (B2C) or other businesses (B2B). Whilst there will be some cross-over of criteria, such as location and frequency of purchase, you might also want to consider a number of other influences:
For B2C: Demographics, social class, age, personal life stage (married, retired etc), interests.
For B2B: Business size, usage rate, company turnover/revenue, business stage (ie start-up or mature business), internal purchasing process, key people.
The benefits of segmentation
Firstly, you will reduce your marketing costs by only targeting real prospects. The marketing will be more effective and will help build a relationship with the customer. In time you will create loyalty, boosting both customer retention, and advocacy.
For segmentation to be effective the target group must be distinct, tangible and accessible. Not all your customers and prospects will be at the same stage in the product lifecycle. New customers will have different needs from those who have been a customer for some time and know your product well – so your communication will need to be different.
By segmenting these groups, you can target your marketing more effectively. This might mean varying the content of emails, newsletter and offers that you send or even how often you get in touch.
Understanding their needs and habits will help improve your communication and timeliness. For example, a new customer may need more support as they start to use your product. Long-term customers may need greater incentives to stay loyal. You might want to consider how easy it is for them to switch suppliers and think about creating "stickiness" - incentives to stay.
Understanding your customers
It can be a good idea to carry out research to find out more about who your customers are and their buying habits. You may already have data stored that will give you an insight, such as sales records, or you might need to conduct a survey to find out more.
If you have a good CRM system you will be able to see how these groups and individuals have responded to previous campaigns. Did they open and click though on your last email campaign? Did they respond to a promotion?
Segmenting your database to activity level gives you real competitive advantage. And using a good email marketing system that integrates with your CRM will mean you can easily mail your database at an individual level, responding to the customer's needs.
This technology isn't just for the Amazons of this world – through cloud technology it is now easily affordable, or even free, for small businesses too.
Copyright © 2015 Helen Armour, marketing manager at Really Simple Systems.