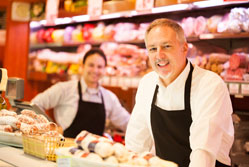 Things are changing on our local high streets. Consumers are shopping in a different way and these new habits are bringing exciting new opportunities for independent retailers.
Just last month, a report by the Local Data Company in conjunction with the British Independent Retailers Association (BIRA) revealed that the number of independents is now at its highest level in four years following a net increase of 432 new stores in the first half of 2014.
There are lots of reasons for this positive news – consumers are keen to support local retailers and the recovery, although unsteady, is certainly helping too.
But the biggest driver seems to be a shift in shopping habits. New data shows that we are increasingly swapping the old weekly food shop at an out-of-town supermarket for more top-up trips made locally. And that is driving footfall to all kinds of shops on our high streets.
A new generation of canny shoppers
The recession has permanently altered the way we shop. We are less keen to drive to out-of-town supermarkets. And we are determind not to waste food as we once did. That means we would often prefer to buy our food locally as and when we need it.
What's more, when we are visiting a Tesco Metro or a Sainsbury's Local to get some essentials, we are also increasingly visiting other local stores as well.
But that's not the whole picture. We're also lapping up any opportunity to get a bargain. While the likes of Tesco and Sainsbury struggle, discounters such as Aldi and Lidl are flourishing. And of course, we are increasingly shopping online too.
All this has prompted Goldman Sachs to suggest in November that one in five big supermarkets may need to close. It points to "altered shopping habits" as well as competition from the big discount chains and pressures from online retailers.
These are clearly seismic shifts – not just recessionary aftershocks.
Grasping the opportunity
Now's the time for independent shopkeepers to grasp these new opportunities. It's about promoting what makes you special and giving customers the kind of friendly, personal service that big names just can't deliver.
Tell your customers just how much good they are doing by shopping locally. According to Independent Retailer Month, for every £1 spent locally, 50-70p goes back into the local economy. For the same £1 spent out of town or online only 5p trickles back to the local community.
After all, a recent survey by Vend has found that 53% of consumers who choose to shop at small businesses do so to support the local economy and 30% of shoppers choose small businesses to buy one-of-a-kind items.
The convenience of online shopping, however, is undeniable. Independent retailers can also win more business by having an appealing and accessible website where customers can browse, get information, order online and either have goods delivered or click and collect. Judicious use of discounts and deals will also appeal to many shoppers that are counting the pennies.
Support for independent retailers
All over the country there are shop local campaigns offering support and inspiration – Love Hackney Shop Local or Buy Local Norfolk to Totally Locally Durham are just a few examples.
Above all, at this time of year, it's well worth getting involved with Small Business Saturday. Taking place on 6th December, this grassroots campaign encourages consumers to shop locally and support small businesses in the run-up to Christmas and beyond.
You can download support and marketing materials on the Small Business Saturday website. And look out for the Small Business Saturday bus – coming to a town near you in November and December.
Blog by Rachel Miller, editor of Marketing Donut.
Related articles and resources
You may find the following articles and resources useful: