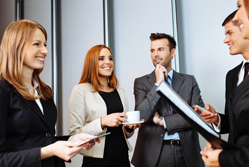 Is your networking bringing you a steady stream of new business? If not, it could be because you are making a few fundamental mistakes.
Pitching to sell
Businesses spend a lot of time creating a sales pitch that is compelling and interesting so that a prospect will buy. All too often though, business people make the mistake of using the same pitch when networking. You're not selling to your network; you're teaching your network how to sell on your behalf. Don't pitch your product; pitch your pitch.
Being vague about your target market
Understand who benefits the most from your products and services and then learn to describe them clearly and succinctly. Seek to help a new contact recognise potential prospects from within their circle. The more specific you can be about your target audience, the more likely they are to think of someone they know that might need your products or services. Explain how you could serve those people well and encourage contacts to talk about you at the next available opportunity.
Neglecting to tell a story
People often talk about having a unique selling proposition but in reality most products and services are not dramatically dissimilar or genuinely unique. So it's important to highlight why a customer should choose you over your competitors. In general, that comes from who you are and the approach you take.
Creating a story that highlights your strengths means you will be remembered. Raw facts are not remembered, stories are – stories that people can relate to and empathise with and stories that show how you have helped others. That's what will get your contacts talking about you.
Failing to stand out from the crowd
It's also important to position your business within the marketplace. For example, your target market may be different or the subtleties of your service may differ from competitors. Those differences help your target market to choose you. Tell that story and you and your business will be more memorable as a result.
In conclusion
Remember, your network is not your market.
When you're networking you're not selling – you're teaching your network how to sell for you, you're teaching your network what makes you stand out and you're teaching your network who is best-suited to your products and services.
Ideally you are helping them to identify one or two people for whom a referral would be sensible. At the same time, when you network you should be seeking similar information from your network. You get out of your network what you put in. If you want others to share their knowledge and refer their contacts to you, it's reasonable to assume that they are looking for the same kindness from you too.
© William Buist, ceo of Abelard and Founder of xTEN Club.