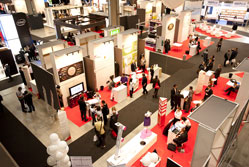 If you want to get the most form your exhibition stand then you need to choose the right location and layout.
1. Get a floor plan
If possible, it is a good idea to gather any previous years' floor plans for the exhibition. You can then identify patterns, such as certain industries grouping together, or recurring refreshment areas that will help to guarantee heavy footfall.
2. Side, corner or island?
Each of these locations has benefits and drawbacks. Most stands at an exhibition are at the sides, making it easy to design a reusable stand for this space. However, this position can make it more difficult to get noticed as other stands will inevitably block the view. Corner spaces can help deliver a greater footfall to your exhibition stand. Island stands can be very effective in delivering footfall. However, you will need to anticipate the main entry point so you can angle branding and other features to greet new visitors.
3. Neighbours
Your neighbours will have an impact on you. If all of your neighbours are from the same industry this might detract from your stand, overwhelm visitors and create "industry swamp". Being near an industry leader can help attract people to visit your stand though. Being near a complementary stand can also have benefits as you can both refer visitors to each other's stands.
4. Your own space
If you have multiple arms to your business, it could be worth allocating each division its own exhibition space in different areas of the exhibition. This can create greater brand awareness. In addition, by separating the different arms of your business you can position each in locations that will attract the most relevant footfall.
5. Don't limit your creativity
What are your stand's limitations — position, power supply, height and floor space? The only way to stand out is to get creative within these limitations — not to limit your creativity.
When BT came to us for an exhibition stand that could fit within a very tight floor space and with limited power supply, we looked at what could be used in the design — height and soft light. We designed and built a canopy of stretched material, which refracted low-wattage lighting to create a spectacular result visible all the way from the exhibition entrance.
The key is planning. Think about what you want to achieve and who you want to attract. Above all, design around your limitations — don't give in to them.
Copyright © 2014 Richard Edwards, director, Quatreus.