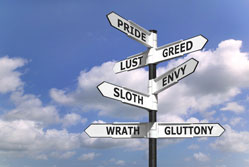 Recently we've seen some sinful uses of social media; from clueless users to pointless tweeters. Already this year we've witnessed an array of social media blunders, not to mention those who've been prosecuted for their comments on social media.
So why all the sinning? With social media use at an all time high and as competition increases between social businesses, people are stretching the social media boundaries to stand out online. Some businesses have lost sight of social media etiquette, business etiquette and common sense as they "borrow" content and spy on their competitors.
But businesses that abuse social media are only damaging their own reputations and jeopardising their business opportunities.
So what are the 11 social media sins?:
1. Forgetting that social media makes you omnipresent
Although you can delete posts, people can also screen grab and anything you post can remain in the social media realm forever. This is particularly relevant with Twitter — you can never be certain who is monitoring what you tweet. Never post anything on social media that you wouldn't be happy for the whole world to see.
2. Not being consistent across social media platforms
Treat social media as one and be consistent across your social media profiles. Your social media profiles should not be competing for your attention, do not favour one over the other; you should post content consistently over all sites. But keep in mind though that each has its own rules and purposes.
Use Twitter to signpost, ensure LinkedIn is B2B focused, Facebook B2C and Google+ should be a mixture of the two. You may need to alter the language of your posts based on the target audience of that platform. Ensure that your presence is consistent and truly represents you. Your social media profiles are usually the first place people go to find out about you, if you've got a mismatched, jumbled and inconsistent presence, people will be less likely to trust you and what you post.
3. Not being vigilant about fakes and trolls
There are thousands of fake social media users posing as celebrities and everyday users, with many of these being controlled by internet trolls. These are people who trawl social media sites posting derogatory comments and abusing users and should be reported to the social networking site in which they are operating on. 
You must ensure that those influencers you follow are verified (have a little blue tick). If you're an infamous user yourself, consider getting your own account verified.
4. Not minding your Ps and Qs
You need to be careful what you tweet, even on your personal social media profiles. If your employer is mentioned on your profile, they can be liable for any offensive comments you make through Vicarious Liability.
Mind your social media Ps & Qs, watch your language and do not swear — especially if you're posting from your business account. Your tweets represent your brand so ensure they reflect your target market and avoid offending anyone with your language.
5. Taking a break from social media
There are proven best and worst times to post on social media and constantly broadcasting brand messages can be a waste of time. Check out the best times to post and ensure your posting is targeted.
Mix up scheduled tweets with timely posts throughout the week so you'll create a great balance for your social media profiles and save yourself a lot of time.
6. Sharing personal information
Social media is not the place to air your dirty laundry and you will undoubtedly regret doing this so don't share your personal information, family disputes or private matters.
Do not mix your personal life with your business handles; ensure you create a different personal account to keep up to date with friends. Already this year we've seen a number of cases involving people being fired, and in some cases prosecuted, for what they've said on social media. Again, don't post anything that you wouldn't want the world to see — including friends, family, colleagues and employers.
7. Deleting negative comments
Most of us have received negative or abusive comments on social media at some time. Don't delete these comments, instead reply to them promptly (not necessarily immediately) and appropriately (step back, compose yourself, don't reply in anger, deal with this in the same manner as you would through any other form of contact) to show you are dealing with this.
This is particularly true when it comes to social customer service; Twitter is now the first place many of us go to complain and if your company is brushing these comments under the carpet and removing them from your feed then this shows you in a terrible light. Show respect when replying and only use humour if appropriate.
So, don't kill comments (unless truly offensive, in which case report and block); start dealing with them confidently.  Ultimately, you will be judged on the way with you deal with it.
8. Not being faithful to your connections
Don't insult or mock people via social media; instead treat all your connections with respect. Ensure you get the tone of voice right, as well as the content you share — never position yourself online as something you are not.
Treat others as you would like to be treated yourself. Forge new relationships, share content and that way your will gain respect, support and recognition.
9. Copying content
Social media has made it harder than ever for individuals to keep a track of their comments, posts and articles; and it's now easier than ever for people to steal your content. Don't steal other people's tweets, arguments and opinions — it's wrong.
We all know that social media is great for getting content ideas and inspiration, but if you are to use someone else's articles, don't present them as your own and reference them correctly. Social media content can still be copyrighted and you may find yourself in trouble if you present ripped off content as your own.
10. Lying
Many people think social media gives you anonymity but this isn't always the case. Social media posts and comments are traceable so never use social media to slander people or businesses.
If you have a problem with a business or a brand, make sure you bring this, politely, to their attention and do not use social media as a way to broadcast your hate towards them. If you're a business, don't lie about other companies or mock them on Twitter.
Ensure that you have correct training and policies in place to monitor what your staff post and who has access to your accounts.  After all, social media is an extension of your existing communications channels.
11. Jealousy
Love what your competitor is doing on social media? Well, don't just sit back green with envy, go and do it yourself. Social media has removed boundaries that were traditionally the realms of big brand, big budget names.
Social media has provided a glass wall into other businesses and If you like something they're doing, then think about doing something similar yourself. Not only has it allowed you to monitor competitors, social media has also allowed you to keep a track of your business targets, giving you an easy way to communicate and network with them.
© Emma Pauw, social media writer, We Talk Social.