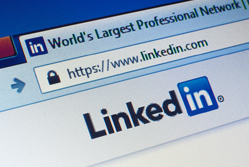 Back in 2009, we were presenting to students at leading business schools on how to make the most of LinkedIn. We showed them the power of LinkedIn for mapping out their career paths, conducting research, getting noticed by potential employers; and we explained why we thought LinkedIn would be one of the most powerful tools at their disposal throughout their careers.
A great deal has changed since 2009; but our predictions were pretty spot on!  Here's why…
With 15 million UK users, three million business pages and 1,500 school and university profiles, LinkedIn has become the most powerful tool for professional networking. The so-called "Facebook for Business" can bring huge benefits to both professionals and academics and it bridges the gap between the two.
A recruitment tool
Currently, LinkedIn is one of the best ways for professionals to network and it is awash with success stories of people who have used the site to enhance their career. It allows you to monitor competitors, read up on new career opportunities, network with professionals and is increasingly being used for recruitment.
It's no wonder that graduates are increasingly turning to LinkedIn as the number one tool in their job search. It allows you to read up on the skills and background of leaders in your field, search vacancies and gain valuable advice from industry experts.
So, we were not surprised when LinkedIn launched its new education service. The idea is to create college and university pages to provide students, alumni, lecturers and employees with a place to connect. The tagline reads: "Powered by the career paths of over 250 million members".
Mapping your career path
The education pages provide users with job opportunities, they suggest new connections, allow you to see what your peers are now doing and show potential students what career path their course alumni have taken.
This is a fantastic tool for students, allowing them to start conversations with business professionals and gain valuable insight. From a business perspective, the service also allows you to sift through students to find ideal candidates, as well as connecting with any old alumni to develop business opportunities. Your old uni friend could open the door to your next big client.
Last year, LinkedIn also announced its partnership with some of the biggest names in online education so that users could showcase their educational achievements on their LinkedIn profile. Following the completion of specific courses, these certificates can then be posted directly to your profile. Not only can users add their certificates, but LinkedIn also allows users to add their honours and awards, test scores, courses and patents; moving the platform ever closer to becoming a one-stop, online CV.
It surely won't be long before candidates will simply submit their LinkedIn profile to a potential employer instead of a traditional CV; indeed already many companies are asking for both.
Emma Pauw is social media writer at We Talk Social.