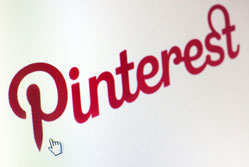 Recently, I've been talking to some of my small business clients about Pinterest and I have discovered that many of them are still in the dark about its potential value to their businesses.
What is Pinterest?
Pinterest is a social media site based on images. Completely free, users create online pinboards featuring themed collections of pictures and/or videos.
It tends to be somewhat female-biased (though not exclusively) and is perfect for lifestyle, home décor and interiors, weddings, food, fashion — it's all about ideas and inspiration.
But Pinterest is great for any consumer ecommerce businesses and has been proven to drive better online sales conversion than the mighty Facebook.
How can Pinterest help my business?
Pinterest can actually help build greater brand awareness for your business and help you engage with your customers.
Think of it as an alternative to a Facebook business page — if you have a Facebook page you'll be familiar with adding posts that are designed to drive traffic to your website. Likewise, with Pinterest you can pin pictures to your boards showcasing your products (possibly with other complementary products) or bringing what you do to life if you provide a service.
You can also show customers using your products and feature customer case studies or completed projects — anything that will generate interest and drive traffic to your website where they can get the full picture of your product range.
How you use your boards is up to you. You could consider creating a photo-based competition or crowdsource ideas by inviting users to add suggestions or ask for their votes for new product ranges.
If you go to events or interesting venues, why not share photos before, during and after the event. It's all about making an impression, giving an audience insight into your business and showing them why they might want to buy from you.
So what works best?
Pinterest is very mobile-friendly and most people use it on their phones — as a result, pins with a vertical aspect ratio work best.
It's also worth thinking about how you'll describe your pin. Pinterest is a visual tool but words are powerful for search. Take time to explain how a particular product will be of benefit to customers by writing helpful descriptions. Better descriptions will also help your pins show up in on-site searches as well as Google.
Put yourself in your customers' shoes when writing your descriptions. If you're selling wedding hair accessories, for instance, write about the ideal length of hair or hairstyle that a particular hair clip will suit.
The more you explore Pinterest, the more click throughs to your website you'll get, as well as repins that will ensure your products are seen by more and more people.
Copyright © 2014 Sarah Orchard. Sarah is an expert contributor to Marketing Donut and a consultant at Orchard Marketing Associates.
contributor
Sarah Orchard has more than 15 years' top level marketing experience on leading UK and global service sector brands.